In the past I've wrote an
article about EURCHF setup. We all know that currently this pair is
in a strong downtrend. But we also know that SNB set a floor –
1.2000 - for this pair. So we still have
great opportunities to trade. Currently I am building longs of this
pair. I expect that just after these problems and uncertainties with
Euro end, pair will move up. Also intervention by SNB is probable
too. Rumours about new – higher floor would fast lift the pair too. But also while trading this pair, risk
has to be calculated and stops have
to be used. We cannot be 100% sure if SNB will
defend floor. They can change their minds. In this case we would get
crash of this pair. So all positions should be reversed in this case.
Anyway I think that this scenario is least probable, because now,
when they already set the floor, changing minds would be very
damaging to Frank rate.
In this
article I will shortly show the levels and what I am expecting.
In a
chart below is a daily chart of bigger picture. On a regular pair we
could expect a reversal, so with 1.2000 floor odds for a reversal are
even higher.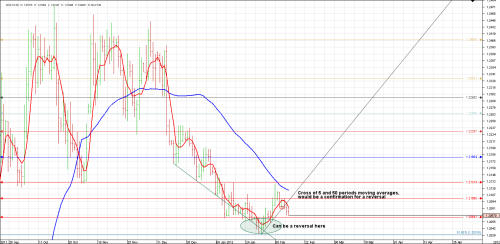 Below is
a 1 hour chart with uptrend line. There were few nice opportunities
to long from uptrend line. But later this line has been broken.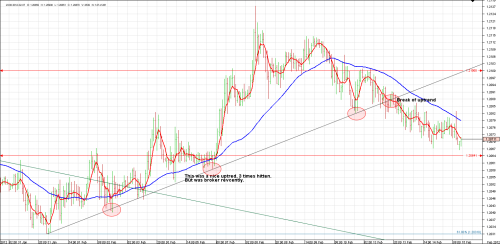 In
a 4 hour chart below I suggest two positions and take profit level.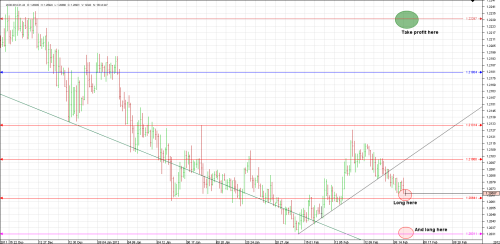 I
think that 1.2064 level is very important. My trade style is always
based on historical levels. I analyze data from 1 to 2 years. So in charts below is historical price action at 1.2064 level. Price action is very important, it shows how pair is traded, what levels are interesting for traders. I always look for supports, resistances and magnets in price action.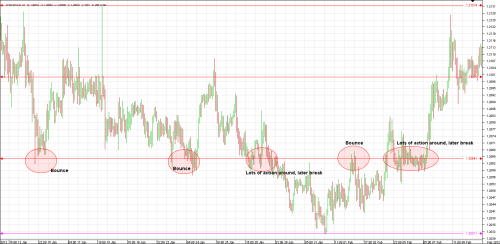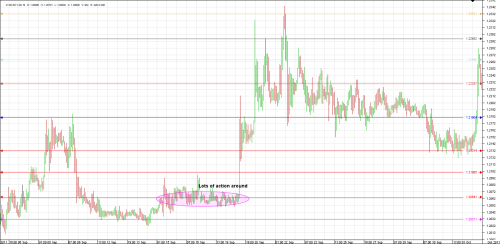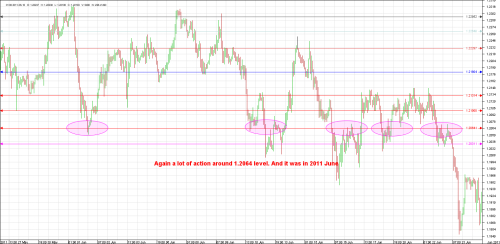 This
1.2064 level was calculated by software I made. It calculates levels using 2 years of tick data from Dukascopy. But also with naked eye
from charts above we can see that level was always respected – as
support, resistance or magnet. So it means that traders watch this level.
This
EURCHF trade setup is just an example. Everyone should trade his or
her own setups. I just hope that this article will give some ideas.
And if you trade this – do not go "all in", manage your risks.