Hi, friends.
The key to success is being able to trade your belief systems and have fun"
[b]-BILL WILLIAMS [/b]
I have desire, to make a trading system in which I will have a full faith, so always I keep experimenting to find best possible combination of various technical indicators to make a best trading setup which will have high probability of successful trades, means more than 85% profitable trades. It is always suggested that, to use more than three technical indicators to get most correct trade. My first best friend is price action method.
Only 15 to 30 percent of the time does the market trend "
[b]-BILL WILLIAMS
[/b]
Second I found in BIll Williams Indicator's. Obviously He is a great man who gave most useful Indicators. Another reason is I agree with his opinion that most of the times trend is sleeping and only during 20 to 30 percentage of time trend is Awakening or rising. Next indicator is AC most useful as it changes direction before actual price changes. Another one I found in DMI. Because DMI clearly gives strength of trend. I will explain all these in brief and then I will show how we can setup most successful trading setup using these indicators.
PRICE ACTION:
Price action is the simplest and easiest way to use because by observing only chart we come to know about trend.
I will show on chart. On chart I have shown
BREAK-OUT, BREAK-DOWN AND SIDEWAYS TREND.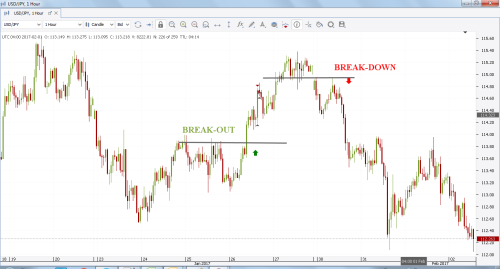 On chart below I have shown sideways trend where price move up and down continuously without moving in any one direction. It is range bound touching upper end coming down and vice versa touch lower end and rising.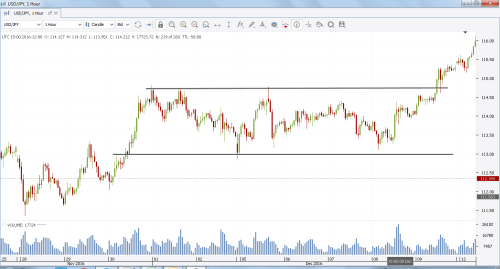 WILLIAMS ALLIGATOR:
Alligator has three components,
LIPS TEETH AND JAW
. When LIPS crosses JAW and TEETH below that i sell trade and vice versa when LIPS crosses above TEETH AND JAW that is buy trade. I have shown it in chart below. Williams described this indicator as follows.
"even a blind chicken will find its corns, if it is always fed at the same time…. it look us years but we have produced an indicator that lets us always keep our powder dry until we reach the blind chicken's market."

[b]-BILL WILLIAMS [/b]


LIPS: Green Line;
TEETH: Red Line;
JAW: Blue Line.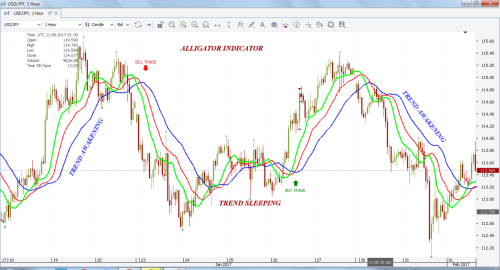 AC2:
This is called accelerator Deceleration Oscillator is very much useful. Latest we know is price change but before price changes market driving force changes direction. Acceleration slows down and reaches naught and then moves in opposite direction until price changes direction.
AC has columns rising in green color and falling in red color
. For buy column should be rising and in green color and vice versa for sell trade column should be red in color and falling. Below I will explain on chart. Anyone can notice that before alligator crosses into sell mode AC has changed its direction in opposite direction.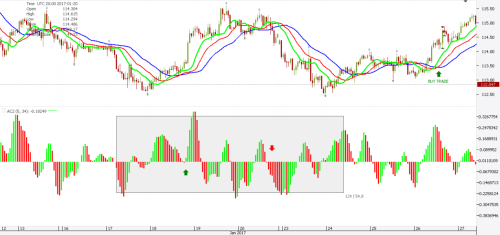 DMI:
DMI has three components. First
ADX
means average directional Index, if
ADX is above 25
( line in blue color)
means trend has getting up strength and will move further away.Other two are
DMI+ ( line in green color ) and DMI- ( line in red color )
which move in opposite direction.
DMI+
turns greater than 25 and negative-minus goes below 25, then we can enter into buy trade vice versa
DMI+
goes below 25 and
DMI-
turns above 25 we can enter into sell trade. Now I will explain on chart. Below we will see when
trend is SIDEWAYS ADX blue line remain sideways
. And when price gets momentum ADX rises above 25 and DMI+ and DMI - moves apart in opposite direction.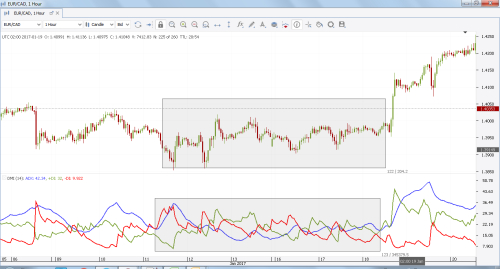 Now I will explain how to use combination of
PRICE ACTION, ALLIGATOR, AC AND DMI
to enter into trade.
" TREND IS YOUR FRIEND. "


BUY TRADE SETUP:
Observe following points
.
On chart there is
ALLIGATOR indicator at bottom of chart DMI indicator and above that AC accelerator indicator. Price action breakout
I have denoted by segment. Candle successfully closing in
green color
.
PRICE ACTION PRICE CROSSED LATEST HIGH AND SUCCESSFULLY CLOSED ABOVE AND CANDLE IS IN GREEN COLOR;

AC NEAR ZEOR AND RISING COLUMN IS GREEN;
ALLIGATOR: LIPS ( GREEN LINE) CROSSING ABOVE TEETH ( RED LINE ) AND JAW ( BLUE LINE)

ADX (BLUE LINE) ABOVE 25;
DMI+ ( GREEN LINE ) ABOVE 25 AND RISING;
DMI- ( RED LINE) BELOW 25 AND FALLING;
DMI+ AND DMI- MOVING APART AND IN OPPOSITE DIRECTION.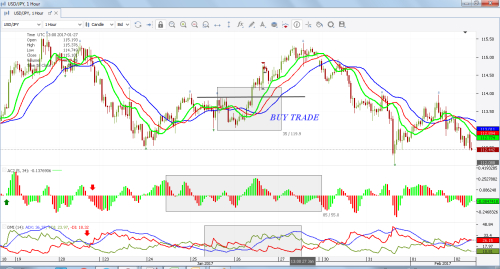 SELL TRADE SETUP:
Price Action Breakdown. Price closing below latest low. Points to observe.
PRICE CLOSED BELOW LATEST SERIES LOW AND CANDLE IS RED. I HAVE MARKED IT BY SEGMENT;

ALLIGATOR. LIPS ( GREEN LINE ) CROSSING BELOW TEETH ( RED LINE) AND JAW ( BLUE LINE);
AC HAVE CHANGED DIRECTION COLUMNS ARE IN RED AND FALLING AND REACHING TO NAUGHT.
ADX FALLING DMI+ ( GREEN LINE) AND DMI- ( RED LINE) STARTED MOVING TOWARDS EACH OTHER.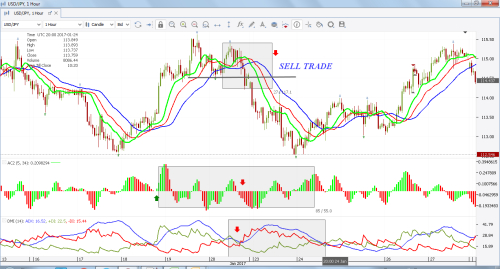 It is well said that traders psychology plays a important role in every trade. So I tried to find out the system in which I will have a full faith. I have tried this method which I have shared with you and found it 90% of the time successful. On longer time frames it gives almost a successful trade. Above I have explained on hourly chart, which can be used in intra day time frame. On daily chart we can use for weekly trades and monthly trades.
" WHATEVER WE WANT TO ACHIEVE, IT ALL STARTS WITH MIND. FIRST IT IS CREATED IN MIND AND THEN IN REALITY."
So, at last I want to say, do what you believe. I always sets target for me. I have read a great book 'THINK AND GROW RICH' by 'NAPOLEON HILL' which have given success stories of great men on earth. After reading it,I come to understanding that keep moving until you reach where you want to go. Have faith in yourself then only you will succeed.
ALL THE BEST TO ALL MY FRIENDS.