Success is not in the simplest attitudes?!
Which of us does not walk in search of the Holy Grail? We all seek ways to negotiate, that we can bring fortune to our pockets ... but is that deep down, we believe that this is possible?!
I walk in the Forex markets since 2006 and in truth I have to tell you, it took me 3 margin call, I've been through different trading strategies, I've lost, I won and I'm back to lose, repeatedly questioned the possibility of quitting, either because I thought it was not my thing, either because I felt that the levels of stress and anxiety rose to the point of forgetting and despise everything that was around me. However, with the passage of time have been mature, I have looked at things another way and I believe increasingly that the solution passes through Discipline, Money Management, and by the simplest strategies. Obviously I am only a simple trader as others here, however is my intention with this article explain a strategy that I have been using and which I consider for each moment that passes as a good way to earn what they me proposed. I assure you, I have no idea of ​​making fortunes with it, but with discipline, without much greed and good management of funds, the fact is that it has proved extremely effective.
We will call this strategy - the PIVOT.
For this strategy we need as only a moving average, in this particular case we use the average of 1, and we'll start working with a monthly chart. Of course for many, negotiate with a monthly chart does not make much sense, but I guarantee that after seeing my explanation will surely think otherwise. So here we go:
Start by putting

on your

desktop,

a monthly chart

(may be

in

EURUSD

)

.

I like working

with

clean

graphics

...

I think

that the more

indicators

we use

,

we end up

finding

more confusion

.

Now add a

EMA1

,

with

a shift

of 1

and applied to the

HLC

/

3 (T

ypical

P

rice)

.

We could

now apply

it some

other indicator

to give us

the time to

exhaustion

, I

personally prefer

not

to do it

.
Well then, I would start by questioning you about the following:
How many times, after which the Price a particular month, has departed from EMA1 the following month he came to meet the same?!
The answer must be unanimous think ... ALMOST NEVER!
There it is, this strategy is based on it even in the PIVOT meet, starting from the assumption that the PIVOT, is our EMA1. So, imagine the following scenario.
In a particular month our price moves away X pips (when I use monthly Time Frame, I get alert whenever he was away above 120 pips) then enter with a 1st position in the opposite direction (in the sense of going to fulfill the pivot, ie to meet the moving average), this can be a little dangerous when the month will still at the beginning, and then taking it into consideration in the case of Time Frame and Monthly I get to take this into consideration only in the 2nd half of the month, for one simple reason we can not forget that the price moves away the average but also tracks the movement since its calculation is given by the close quote, soon we may be facing false distances and when we reached the end of the month EMA1 can be worth the entry of this order may mean that the breach of it. Hence my suggestion is the following, hopefully by always approaching the end of the month and when this distance is more than 120 pips, then yes then ask yourself the entrance. After another very important thing, do not bet all your chips, be prudent and make good management of the volume used, so you can make a case strengthening move away a little more.
I give you some examples of this system:

Example 1 - At the end of April/2011, and after a candle "bullish", closing at 1.48048, the Pivot to the next month became to 1.45823, we are talking about a distance in favor of sales of 222.5pips (a Monthly Pivot excellent) would enter in a position to sell, however, and as you can see, the pair instead of moving in favor of PIVOT after early May, this distanced himself further about 125 pips ... which for some would cause anxiety ... however and as you can see, the price began a downward movement, having come without any difficulty fulfilling the PIVOT (as required)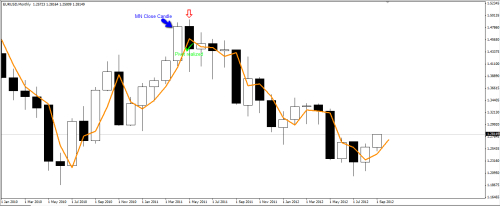 Although it has complied with the PIVOT, this would have left some "traders" concerned at the moment they saw their order to lose 120 pips, so it is important a good Money Management. Now I give you another example.

Example 2 - In the past end of May/2012, we had close to 1.23594, ie, we were at a distance of 299 pips, whereas EMA1 was 1.26593, as you can see what happened in June was nothing nothing less than the fulfillment of PIVOT again and this is what we have seen and always in general.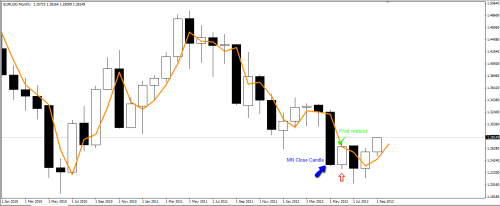 As I began by asking how many times the price did not come to meet one of the following month EMA, now do you another question: To make money, you must think to pick all those PIPS?
Well my answer is this, why be greedy?! Why wanting to win all at once? The market is constantly giving us opportunities, we must take advantage of the same part. If you look closely 90% of the movement towards the EMA1 is made ​​in the following months, if not in the month immediately following, very well, being 90% if the approach is made then why not take advantage of that only 75%? YES!, Not wanting to say this to all and then we end up not getting anything (and sometimes 2 or 3 PIPS) believe this has happened to me so my experience says we do it consciously and without big ambitions . Therefore if we have a PIVOT 120 pips instead of placing a Target Point of 108 pips I prefer to stay only for 90 and to safeguard, I use a BE above 50 pips positives.
Let us now consider the current scenario: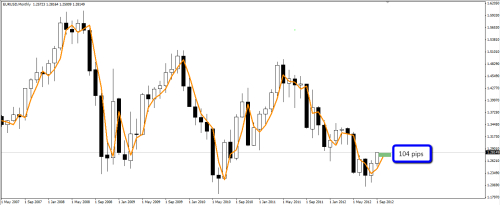 At this time, the asset EURUSD, already has for next October a pivot of 104 pips, as I said earlier, maybe it a little premature at this time an entry of the month, but you can also open a short position at current price (although with the minimum possible volume, note this attitude would be an attitude "aggressive" and could result in bad result, so the more prudent course would be to wait for the close of next week).
On the other hand we can also conclude that the EURUSD at the end of last week became in zone of Resistances, nevertheless presents a level of exhaustion in some minor Time Frame, we can still see that the minimum between the current month (1.25007) and the current Pivot September (1.24478), we have a difference of about 53 pips.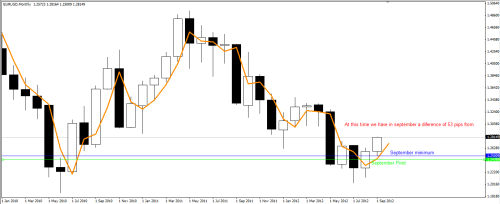 These aspects are somehow enhance the likelihood of asset EURUSD, incurring a bearish move. It remains to this act with some caution and discipline. A good MM at this time is critical.
Once made this first approach to Monthly Time Frame, it is my intention now explain to you how the strategy should be used for shorter periods, in this case the periods of W1 and D1. The study for Time Frames minor, will facilitate the analysis for the period Monthly, however there are some other rules to consider, but I will leave it to the next article, as well as the explanation of how it should be done a management Stop Loss if such is the desire of other readership. As I will not stretch further in this article (because I can not do - word limit used)
let the promise, that throughout this month, and it appears to fit, which I mean that if there are situations that meet this strategy, I will make appropriate comments and suggestions to enter the market.
Votes of good trades,
APinto - Bluedragon