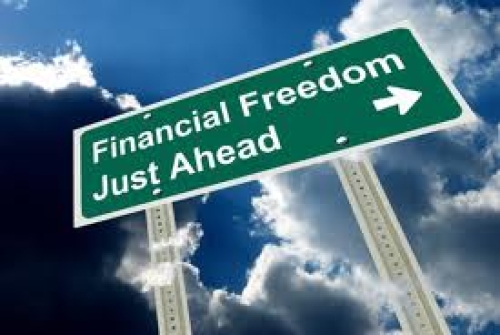 Happy and prosperous 2012, my friends.
Before you will read my January Analysis, week 02-06.12, please take a few minutes to
Remember the 12 Solutions to discipline Yourself as a Trader, 12 MUST Steps to Make a Trade
(and the Important Advices in the article).
This ARTICLE SERIES contains Two main Parts: -1) The weekly analysis (updated through comments) on Daily, 4H Charts for the Major Pairs (EUR/USD, GBP/USD, AUD/USD, NZD/USD, USD/CAD, USD/JPY, USD/CHF),
-2) General Trading Solutions and Advices (this week - Range Bars Charts Introduction).
1) CONSTANT RANGE BARS CHARTS. (Price Movement / Action - Volatility Charts)
Created in 1995, by a brazilian Trader, Vincent Nicolellis Jr., Constant Range Bars are also called "Momentum Bars". They are standard Charts with Bars that have Open/ Close/ High/ Low and Volume, but they focus on Price Movement, eliminating the Time Factor.
The Range Bars charts have 3 rules:
- Bars have the same Lenght / Height / High-Low Range in Pips, Ticks or Money ($),
- The Close of the Range Bar is always at the High or Low of the Bar,
- The Opening of the next Range Bar is always one pip / tick, above or under the High or Low of the current Bar.
For example, let's take a look at a 30 minutes chart on Eur/Usd and Compare it to a 10 Pips Constant Range Bars Chart in Dukascopy J-forex Contest Platform: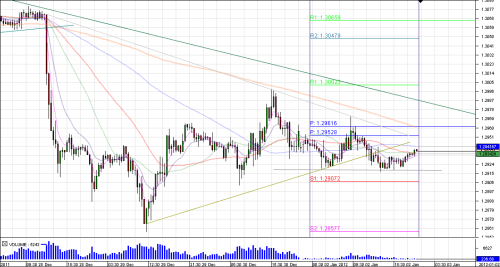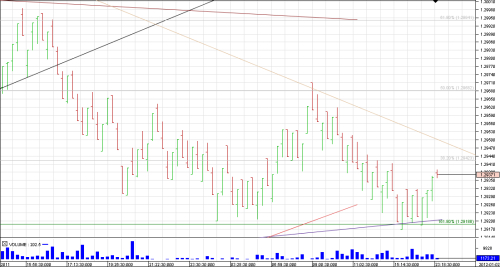 - You can clearly see that we have a smaller number of Bars on the second chart, then the first one for the same period, and the same price action.
- If the Range of the Price Movement is smaller than the Constant Bars Lenght (ex: 10 pips), another bar will not be generated until the price range will be broken upside or downside.
- Gaps can be filled with Phantom Range Bars (not on J-forex Platform).
- Time is relative for a Constant Range Bar (it varies until the range of the bar is broken).
- You can Predict the High / Low / Open / Close of the Next Bar.
- If your trading Platform Permits, You can choose the Range of the bars in Pips, ticks or Money ($).
- Trendlines and channels seem to be built for range Bars Charts.
- Trends and trend reversal are easier to detect on Range Bars Charts.
- All the Range Bars have the same Size.
- Technical Analysis is also effective in Range Bars Charts.
- You can use Stop Orders (Conditional Orders) to enter the Market, placed at the top or low of the Bar.
- Money Management and Risk Management also Apply.
- Range Bars avoid to show some of the False Signals present in a choppy, noise Market, in the time based Charts.
- Volumes are better correlated with Price because You can clearly see the accumulation of strenght in the Price Range Bar.
Constant Range Bars Setup:
- For each Trading Instrument (Major Pairs, Stocks, bonds, Gold, Crude Oil ...), You can use ATR - Average True Range, which is the Daily volatility of the price in pips. You can choose a percentage (10, 20, 50%) of the Daily range for a Constant Range Bar.
- Of course that Range Bars' Lenght will also be settled from the Trader's Style point of View (Scalping, Intraday, Swing trading, Positional Trading, Investing)
- Appropriate Values in Range Bars Charts for Different Instruments: Eur/Usd - 15 pips, Gold - 15 Pips, Crude Oil - 20 Pips, Mini Dow Jones - 25 pips, E-mini - S&P 500 - 12 Pips.
Not so many Charting Platforms support Range Bars, but J-forex Platform from Dukascopy is one of them. You can even choose to use this Charts for Dukascopy Traders Contest on the supported Pairs.
>>>IMPORTANT: If You do what Most Traders do, You might Lose Money like Most Traders Do... You must see in Your Charts what Most Traders (Weak Holders)... Don't See!!<<<
I would like to include Range Bars Charts Analysis in my Articles Series, but only if I will get Feed-Back from the Dukascopy Traders Community (you guys)... and then it would worth it.
In the Next article I will offer You another surprise regarding the Trading Solutions. For now, let's get Back to our January Analysis.
2) JANUARY ANALYSIS - Week 02-06.01 - Major Pairs
I
use Pivot Points Main, Supports and Resistences (Daily, Weekly and
Monthly), Moving Averages (simple - 20,30,50,100,150,200), Fibonacci
Retracements (38,2; 50; 61,8; 161,8; 261,8; 423,6), Trendlines,
Channels. You can see a Model of my analysis in my Analysis Series
- EUR/USD - January Analysis - Week 02-06.01
On the Daily chart, we can see a Clear Downtrend, confirmed by the Main Simple Moving averages (30,50,100 and 200 DMA). The smaller downtrendline has been broken on Tuesday Morning, at the confluence with the Main Weekly Pivot (1,2961). Price has found resistence at 1,305(weekly R1 Pivot and Daily R3 Pivot).
Be careful for a False Breakout, even if volumes confirm the Breakout of the trendline. Bullish Probability finds the first resistence at Monthly Main pivot line(1,312) confluence with 30 DMA, then 1,329(bigger time frames uptrendline confluence with 50 DMA), 1,3383(Monthly R1, confluence with 61,8% Fibonacci retracement and maybe 100 DMA), and finally 1,371-1,381 area(38,2% Fibonacci confluence with 200 DMA and Monthly R2).
Bearish probability would return price under Weekly Pivot(1,2961) and take it to new lows under 1,285 support, to Monthly R1(1,2693) and 1,264 support, or even 1,243 Monthly R2.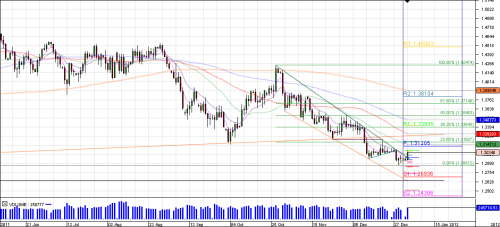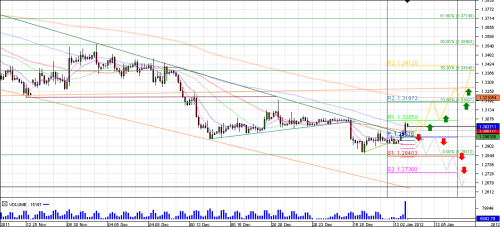 On 4H chart Eur/Usd has broken 100 SMA, and could retrace to the downtrendline and then resume the upside move. If price breaks 1,306(weekly R1), it could reach 1,312(Monthly Pivot), and 1,3187(Weekly r2 Pivot confluence with 200 SMA on 4H chart).Above that level we could see a Trend reversal on 4H chart.
-GBP/USD - January Analysis - Week 02-06.01
On the Daily chart price has broken the Monthly Pivot(1,556), but it has not broken yet the downtrendline. The downtrend is confirmed by the Moving Averages, but the high Volumes on the Upmove show signes of a trend reversal. Be careful, it can be a false breakout.
Bullish probability finds strong resistence at the 2 downtrendlines and 50,100 and 200 DMA. 1,576(confluence between Monthly R1 pivot and main downtrendline) holds price until it could reach 1,597(Monthly R2 confluence with 200 DMA). Above that Level, we have a Strong Confirmation of Trend Reversal.
Downside Probability could Break 1,552(Weekly Pivot) and take price to 1,54 support, and further to Monthly S1 Pivot (1,5346), 1,527 support and 1,5147(Monthly S2 Pivot).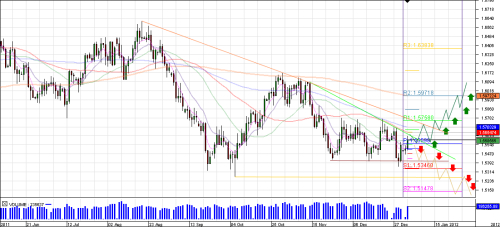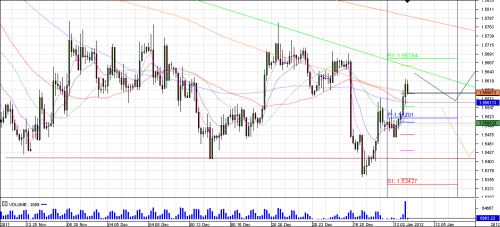 On 4H chart the price has Broken the 200 SMA and has retraced to it, it could be a signal for a trend reversal especially because the volume is Huge on the bullish Move. Be careful for a False Breakout, even if the bullish Probability seems to be the best choice for this moment.
Because I have a limited to 1500 words for this article, I will post the Daily and 4 Hours charts for AUD/USD, and USD/CHF, and the written explanation will apear in the comments after the article will be posted.
I will also update those analysis with the 1H charts, in the comments section of the article, and post Analysis for NZD/USD, USD/CAD and USD/JPY.
- AUD/USD - January Analysis - week 02-06.01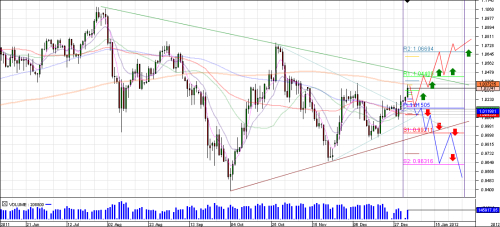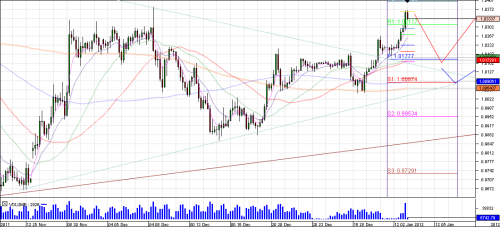 -USD/CHF - January analysis - Week 02-06.01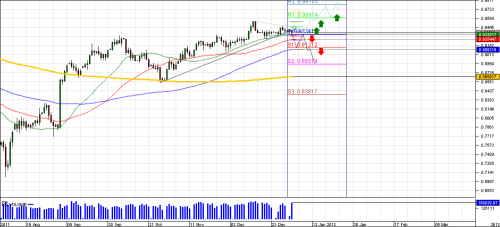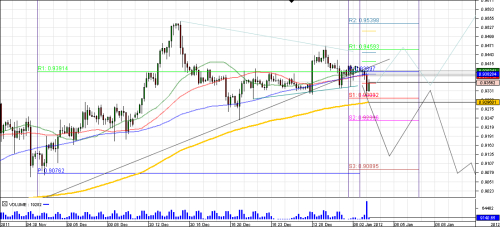 Disclaimer: Please take responsability for Your own trading Decisions. This analysis is not enough for a successful trading strategy.
Remember my 12 steps to discipline Yourself as a Trader, 12 Steps to Make a trade.
To your Success,
Doctortyby