Yes, you heard it right. I am ready to lose in forex trading. To put it in perspective I
have to have big heart to accept losses
in forex trading. I have accepted that I cannot be correct all the time with my trades. And if I have to select between
risk and reward
, I will select risk first. That is how much I will lose if my trade goes in not the way I would have liked. So I am ready to lose a little and want to
limit my risk
on every trade. I think it is first and foremost thing to know the risk on my trades beforehand.
I cannot move price of any pair even by 1 pips. I simply don't have that moving power. So what do I do? I also want to make money. So I will do what others are doing and making money. The good news is that
I can see what others are doing.
And I can see that on my charts in terms of technical analysis and price action. Others are also seeing the same chart and taking positions and collectively they move the price. So if I can do what others are doing, I will make money as others are making.
I will trade what I see on my chart. The recent example I will give of 12-14th 2017 July AUD/USD charts. I could see AUD/USD broke above 0.7630 convincingly, which is 200 hour moving average, on 11th July(See chart 1 below). I know that after last week bullish move to 0.770, pair is consolidating and it has not crossed 200 HMA in a week. And it is only after crossing the level, I will buy the pair at 0.7640 with stop-loss 40 pips away below 100 HMA because shorter term 100 hour HMA still below 200 HMA. And as I mentioned others are also seeing the same chart and they will also do the same to
collectively move the price.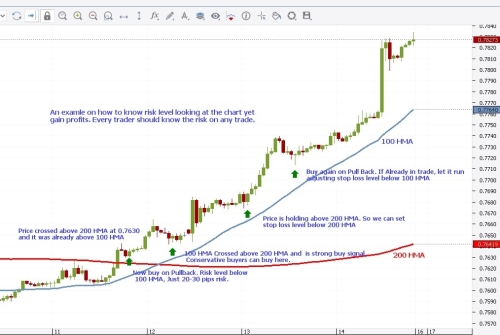 Chart 1
Again I see price tested 0.7710, high of previous week and it broke above resistance at 0.7720. I may will book the profit at 7710 for 70 pip gain because I am not sure if 0.7720 level will be broken. But after some time I see break of important level (0.7720) convincingly. So now I can buy at little pullback at 0.7730 or 0.7725(
Labeled 1 on the chart 2
below) and continue to monitor my trade on 5 minutes chart. I will put the stop loss at 0.7705(below 200 period 5 minutes chart). And that 20-25 pips is my risk level. Now again I see
Label 2, 3, 4
on the chart and price is above that level. Other traders are leaning against that level and buying at that level. I will also do what others doing. They are making money so do I. In between I will adjust my risk level as 200 periods MA is supporting the pair. And if this level gives away I will have at least some profit. Yet by Friday 14th July, I see I pocketed 80-90 pips(price broke above 0.8820) on 20 pips initial risk.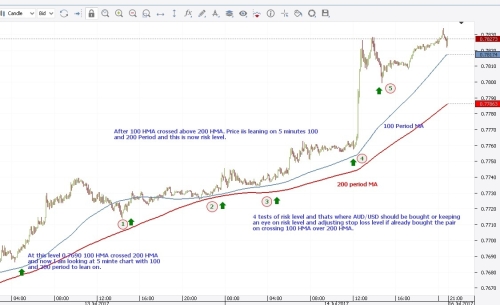 Chart 2
As I know
technical analysis does not work 100 percent
. And people don't use the technical analysis tools all the times. But they use it lot of times and that's where they collectively move the price. I also want to be with the market so I can also make money too. I also want to use Fibonacci levels , Moving average, stochastic, trend lines etc.
because others are using them too.
Do I care about reward, yes off course I do. By Friday I am in profit in my second trade of about 80-90 pips. And now I can book the profit or adjust my stop loss level below 200 periods on 5 minutes chart but that level is some 30-40 pips away and I don't want to risk my profitable position going into weekend and will close the trade. That is all about
exiting the trade
. Maybe next Monday 17th July on pullback to 200 periods MA, I will buy again.
So I am ready to lose but
I want to lose little
because losing little is better than losing a lot. I know my risk and want to limit my risk. But I want to make money as others are making. Good news is that I can do this because I can see what others are seeing on the chart and I can also use them judiciously.
Throughout my financial career, I have continually witnessed examples of other people that I have known being ruined by a failure to respect risk. If you don't take a hard look at risk, it will take you."
– Larry Hite
So the first step in trading as I see that
I should know what I stand to lose on any particular trade
. Yet I want to increase my account balance. That is why I am doing forex trading. Can I avoid losing? No, I cannot. So I have accepted that I will be wrong at times and lose. I will define my risk level on every trade. Yet I will be risked out on many trades. So I am ready to lose a little but want to win a lot, So that
my account balance keeps growing, and keep on growing
.