Did you know that a trend will last much longer than what you think and just when you think it is time to go with the trend that you will most probably be wrong?
DO NOT FEAR! HELP IS HERE

I will show you today how to trade a divergence. Happy days!
There are many types of divergences, but today I would like to focus on a divergence which allows one to enter into a long position, using the MACD, price action and two exponential moving averages.
I am not going to get technical about this, so let's keep this in easy-to-use language.
I will keep referring to the chart below so that you can easily visualize what I am talking about. If the chart below is too small, then I suggest that you open the excellent Dukascopy charting package and plot the same chart as I have. There is an excellent manual for the charting package and you can access it here: http://www.dukascopy.com/wiki/
EUR/CAD 4hour (starting April 2014)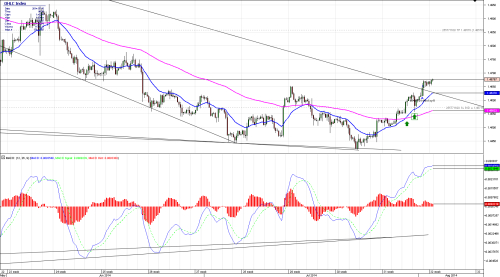 These are the tools which you will need:
1. MACD: Fast period: 12, slow period 26 and signal period 9 (closing price);
2. Exponential moving averages: EMA 20 blue (close) and EMA 105 pink (close);
3. Trendlines;
4. Price action.
Steps to follow
1. Draw a simple trendline below the lows of the price action;
2. Draw a simple trendline below the lows of the MACD
Observations


1. Price is making lower lows which confirms that we are in a downtrend.
2. If you do not believe that we are in a downtrend, then notice that price is consistently under the 105 (pink) and 20 EMA (blue), which means that price is going lower

3. Notice that the 20 EMA is consistently under the 105 EMA (blue under pink)
4. The MACD is saying that price is negative (under the 0 line), but the lows which are shown on the price action trendline does not
match the lows on the MACD trendline.
5. If all were well with this trend then the lows on the price action should match the lows on the MACD.
How to enter the trade CHECKLIST:


1. DO NOT ENTER A DIVERGENCE JUST BECAUSE IT IS A DIVERGENCE!
2. Wait for the 20 EMA to move above the 105 EMA (First green arrow on chart) - DO NOT ENTER YET!
3. Wait for the price action to go above the 105 and 20 EMA with a BIG candle which takes out a previous resistance (second green
up arrow on the chart): DO NOT ENTER YET
4. Wait for the MACD to be above the 0 line. (DO NOT ENTER YET)
5. The combination of 2 and 3 mentioned above should result in what is called an "engulfing candle" which is just a candle which
normally goes through resistance and it engulfs quite a few bars to the left. (DO NOT ENTER YET)
6. NOW: JUST WAIT A LITTLE MORE.
7. When price pulls back near to the 20 EMA, buy at market and let the profits run. ENTER
8. Place your stop loss below the pullback to the 20 EMA.
9. You could stay in the trade for a long period of time because once a trend is in place, it will stay that way until it is tired. So keep
your eye on the EMA's. The 20 EMA should consistently stay above the 105 EMA.
10. If the 20 EMA passes under the 105 EMA, then you should take profits.
11. Once the 20 EMA passes up through the 105 EMA again, ENTER THE TRADE AGAIN!
You can do the opposite for a sell divergence as well.
Homework
You have two assignments:
1.
ENHANCE YOUR TRADING

1. Add a 105 EMA (close) pink to your charts;
2. Add a 20 EMA (close) blue to your charts:
Now only trade:
Long trades : If blue is above pink.
Short trades : If Blue is under pink.
2.
Spot the sell divergence

Here is your clue:
See if you can spot the sell divergence on this same pair starting on the 28 January 2014 and ending on the 20 March 2014.
Good luck and stick to your trading checklist!
Shalom (Peace)
Avaha (Love)
Kitvah (Hope)