4hour or daily chart in Price Action? Part 1
As you probably know, each trader has to find harmony between his personality and his trading strategy. It is one of the most important steps on the road to become a stable profitable trader.
Several months ago I have decided that Price Action is my method of making technical analysis. Sometimes there is a huge gap between decisions and our trading practice, but it is a topic for another day.
EXAMPLE 1

Let's see the daily chart EURJPY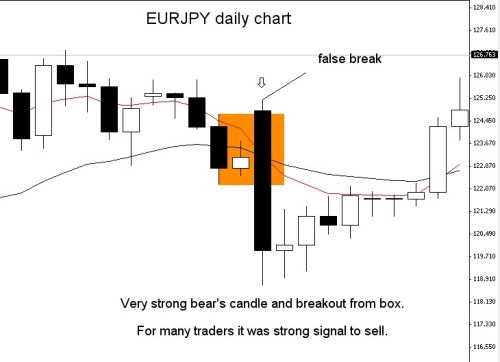 It is a bearish candle - 25 February 2013
What do we see? There is s strong bearish candle as breakdown. Strong engolfing, as we may say in PA's language. I suppose several thousand traders all around world opened short positions on this pair in 61,8% or 82% fibo and set stop loss behind this 25 February's candle. It doesn't matter if several PA's setups won't work on daily charts, of course, but let's ask another question.

How we can use this big move to make money in the market?
It is time to see 4 hours chart EURJPY during 25 February's session.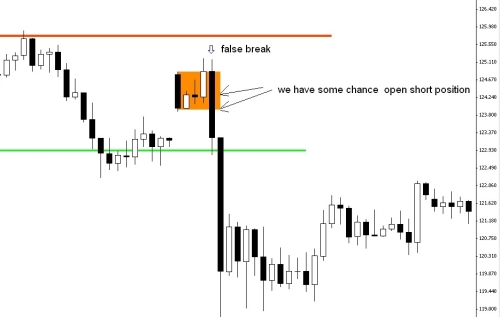 The 4 hours chart show chance open short position with good relation between risk and profit.
We see the false break setup, (i've written some information about this setup on my firts artical). I don't make conclusion that 4 hour chart is better than daily ones in PA trading, but want to explain that this question has right to exist and if you love PA you ought to think about this topic.
EXAMPLE 2
Let's try to analize EURJPY chart after 25 February session. For PA traders playing on daily chart there was signal to sell until buyers break up this candle. It doesn't metter someone open short position on 50% or 78% fibo – every positions was lost.
Ask another question – what does see PA's trader on 4 hours chart?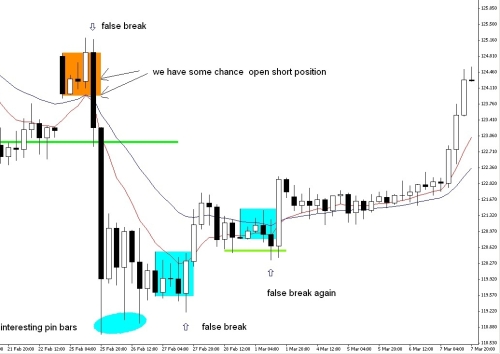 We see several PA's setup to buy in 4 hour chart..
First- several pins bar just after 25 February candle – not strong signal to buy, but attention for sellers.
Second – box of consolidaton inside pin bars we mentioned above, and false break setup.

Third – second box of consolidation with false break setup too. After this setups we see strong bulls momentum.
So, if you see only daily chart you can't see very interesting circumstances with price as main hero.
To be continued ….