Dear all,
I present you a very useful indicator and I try to explain you one application for a very effective strategy based in the support/resistance.
INTRODUCTION:
The I_XO have a complex formula to detect trends by analysing the previous candle close values.
Is possible to set the period (number candles) that it include in the formula.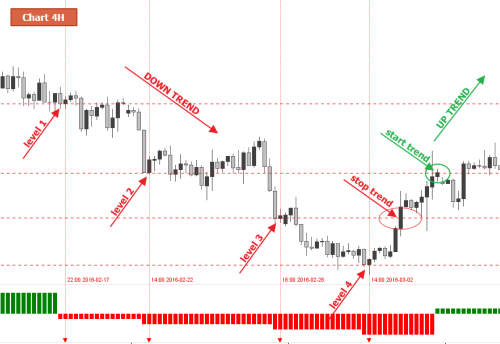 The great characteristics are the changes of levels.
Every time the indicator changes of level the price reach a new level of price.
The interesting are the resistance/support that the indicator show when it change.
HOW THE INDICATOR WORK
The indicator maintains a level until the new level is reach.
The sensibility of the changed depends from the period that the indicator analyses. For high period number the indicator detect more important levels.
This is the setting: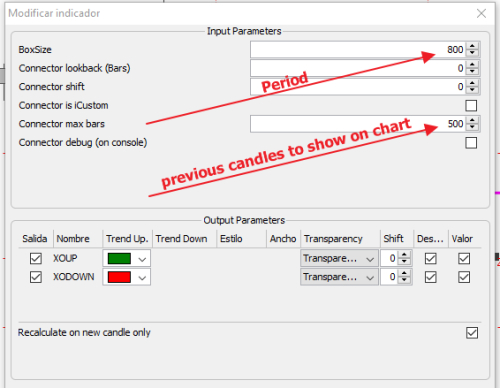 HOW THE INDICATOR CHANGE LEVELS

ú Candle ID2 | maintain and close with last colour/level
ú Candle ID1 | start with last colour but
break the support/resistance
and close with new colour
ú Candle ID0 | open with new colour and confirm the changes of colour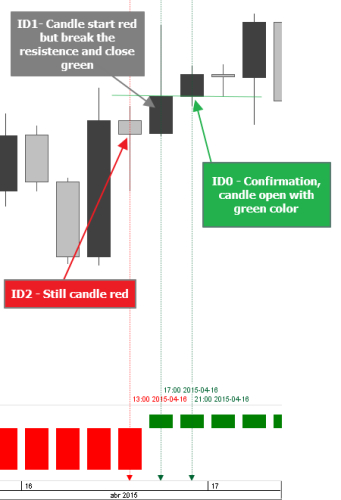 HOW TO USE I_XO INDICATOR
Is possible to use I_XO by different mode.
However the best modes are related with the change of levels.
When the price break down a support or resistance normally is subject to high volatility.
Usually we can see a more large candle but is more possible to see a retracment to reach the new level.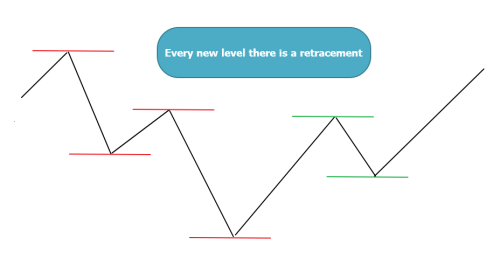 THE STRATEGY

Note:
I_XO work fine with confirmed TREND REGIMEN MARKET
Time frame:
4H or 1H
Period:
use high period (800)
Retracements patterns.
If we use a high period we can see a constant retracement pattern.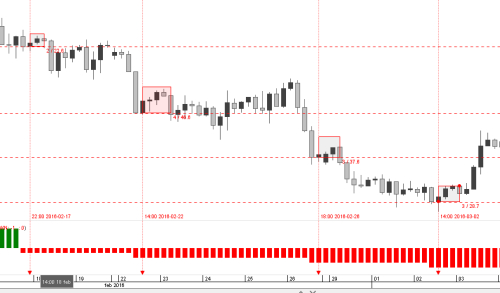 STOP LOSS:
We'll use the candle of the break down like reference for the the stop
ENTRY:
We can entry in the open of the confirmed candle or use various entries in the retracement.
TAKE PROFIT:
the best is following the trend until the end.
Is possible to take profit at the firs stop loss.
Detail of the strategy: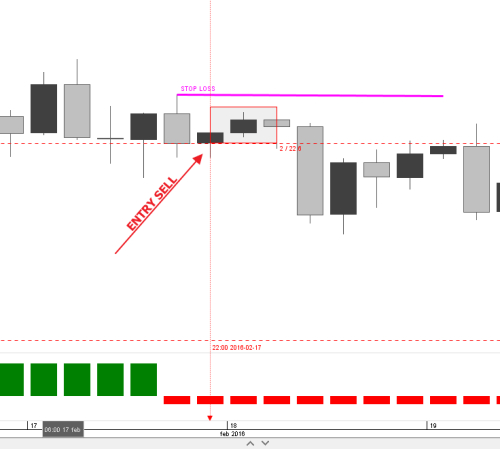 Full trend: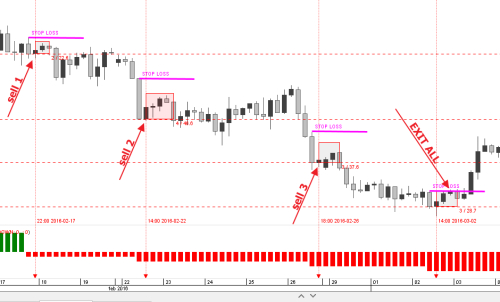 In this case in 9 trade day we can enjoy of 3 goal trades and one in stop loss.
The profit will be about :
1 trade: 256 p. profit
2 trade: 133 pips profit
3 trade: 53 pips profit
4 trade: -30 pips stop loss
TOTAL: 412 PIPS PROFIT

CONCLUSION
This is only a simple example to present the I_XO indicator.
I suggest to DOWNLOAD THE INDICATOR NOW and test it.
DOWNLOAD I_XO (JFX FILE)
In the next article we'll see more specific details about more strategy.
I hope you can enjoy it.
Wish you the best trades!
Clau