Introduction
The time for traditional investment methods has passed and now financial engineering has taken over and the emergence of complex financial instruments such as digital currency is testament to this fact. By far Bitcoin is the largest and most popular cryptocurrency, but the volatility is in the digital currency market as well as the acceptability of it as a medium of exchange has hampered its attractiveness as a safe and secure alternative investment. As the famous saying goes "All that glitters is not gold."
It is on this background that this article retraces the footsteps and looks at Gold as an investment that has stood the test of time. We also explore how Dukascopy can be your trusted friend in investing in Gold.
Gold Price
Gold like any other commodity is affected by market supply and demand dynamics. The global economics play a huge role in the determination of the price, and without dwelling much on the fundamental and technical aspects on pricing the chart of daily prices is shown below.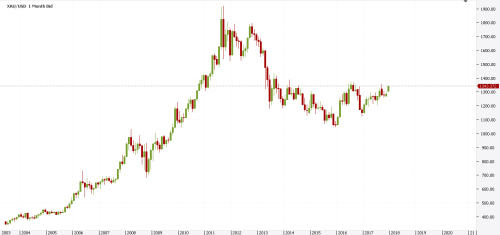 Fig 1: Monthly gold prices
Advantages of investing in Gold

Hedge against inflation
Gold is an excellent hedge against inflation. It has shown positive results even during the economic downturn and market volatility. Gold has seen strong asset appreciation in long-term as can be seen in the chart in fig 1 above.
Portfolio diversification
As the saying goes, never put your eggs in one basket. Gold is an easy and convenient way to diversify your investment portfolio. Research has shown that there has been very little correlation between gold and other asset classes such as equities, bonds and real estate.
Start with small amount
:
It is possible to start investing in gold with a small amount to save regularly and build a huge portfolio for the long-term.
Highly Liquid
:
Gold is a highly liquid investment, with many buyers and sellers available at any particular point in time. This means the entry and exit strategies may not be affected by lack of market liquidity.
How Dukascopy can aid you invest in Gold

Dukascopy Live Trading Account
The first method is through the Dukascopy trading account. By buying and holding Gold, which trades under the symbol XAU/USD. The major advantage is that you can either go long or short Gold depending on your views on the commodity's price. Here are some of the features:
Leverage - 1:10
Overnight Swaps

Dukaskopy Live Gold Account

In an easy four step process customers can open gold accounts with Dukascopy. The following link
https://www.dukascopy.com/swiss/english/forex/gold-accounts/
can help you with the process though we will discuss some aspects of it in the article.
Dukascopy Bank gold accounts are an alternative pathway to the purchase of physical gold. The investor benefits by holding gold without the need to physically store it. Investment can be done in various currncied for the convenience of clients and at very competitive interest rates. Though hysical gold cannot be withdrawn from the gold account, the holder will receive its equivalent in any currency on the currency list. However the possibility to transfer non-deliverable XAU or to convert holdings into physical gold is subject to negotiations.
Tranding fees can be seen on the following link.
https://www.dukascopy.com/swiss/english/about/fee-schedule/?c4#tradingAccountFees
. Custody fees for gold are set at 1% of the average gold balance and are debited at the end of each month based on the average end-of-day gold (XAU) account balance. If transactions on the account (e.g. withdrawals) would not let sufficient funds to cover accrued Custody fees, the latter become payable and are charged immediately.