If the main
macro theme
of 2014 was the broad based
dollar strength
, the general consensus for 2015 is for further appreciation of the dollar. The implication of a strong dollar, and with the pick up in
volatility
, have also set in motion other trends, like the bearish
commodity
trends(see Metals and Oil), the
carry trade
has died (see AUD/USD and NZD/USD) and last but not least EUR/USD has finally started trading to the downside.
The broad based dollar strength can have a big impact on US economy, like
lower inflation
and this can be the trigger, next year 2015, for a considerable correction in the
equity market
but without altering the secular
bull trend
. I'm making a bold call here that the equity market will have a
severe correction
in 2015, once we complete a
PI cycle
from the 2007 high. "PI" the magic number has the following significance:
PI=3,141;

Multiply (Pi)*1000=3141;

3141 days equal 8.6 year;

If you add 8.6 years to the 2007 high it bring us to October 2015 as the next intermediate top.

Because of the dollar's role as the world's primary
reserve currency
, the impact of the broad based dollar strength can trigger some "consequences" in other part of the world such as faster
stimulus
in Europe and in this regard my
top trade
for 2015 remains
short EUR/USD
.
Before to analyse any other pair I think it's very important to have a look just at the dollar itself as every move in the FX world will be determined by the scale of the USD rally.
There is no need to reiterated the fact that I was bullish on the US Dollar, since beginning of the year when the market was still moving nowhere. My pleading for a
US Dollar bullish trend
is still the same and you can find some of the reasons and arguments behind my view here:
The Case for a Multi-Year USD Bullish Trend.
here:
The Case for a Multi-year USD Bullish Trend EUR/USD Outlook
and here:
US Dollar in the Spotlight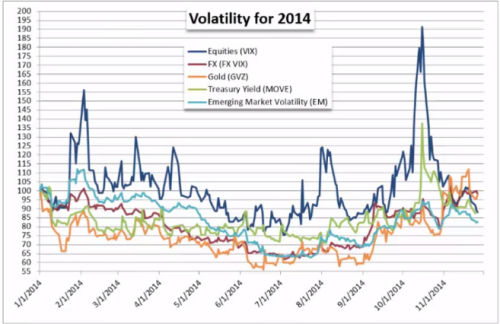 Figure 1. 2014 Volatility across different asset classes
The prospects of higher
US interest rates
and with the
FED
moving towards interest rates normalization cycle coupled with
Europe
easing cycle and
China
tightening monetary policy and
Japan
QE, will cause investors to move towards
higher-yielding markets
. If 2014 we only had one episodic of higher volatility (see
Figure 1
) this is about to change as this divergences in
monetary policies
among developed economies will be the precursor of even
higher volatility
in 2015. All this are arguments for the US Dollar to continue strengthening in coming years as this is just the beginning of this new bullish cycle (see
Figure 2
)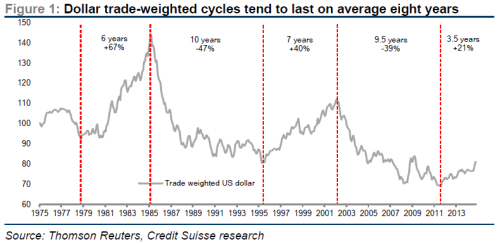 Figure 2. Dollar trade weight cycles


Tighter monetary policies
in the US will be the trigger for a massive covering of long-term positions in currencies, equities, and bonds. Usually the
bonds market
start selling off 3 months before the
first rate hike cycle
. Current FED rates projects the first rate hike in July 2015 so based on this, the US bonds should be shorted in April 2015. As bonds go lower, short term rates will go higher and this alone will be another factor in favor of US dollar strength (see
Figure 3
).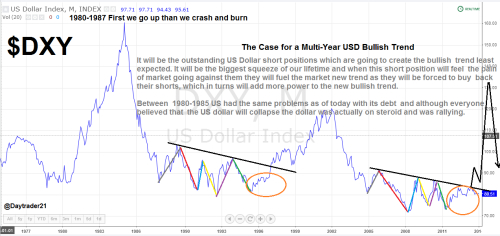 Figure 3. DXY Long Term chart
In the
macro spectrum
it's more about the dollar than it's about the euro, even thought ECB will move towards
sovereign QE
(they may even do it at this week's meeting, but the market consensus is 1st Q of 2015) because of broad based dollar strength ECB will be forced to do
QE
at a slower pace. The reason why I'm expecting ECB to start doing QE only next year is because they are still in waiting mode for the results of
TLTRO programme
for the December auction in order to asses the success of the programme so it may be the case there will be no new step taken, this year, towards QE. But this is just my assumption and interpretation of current data and anything can be possible.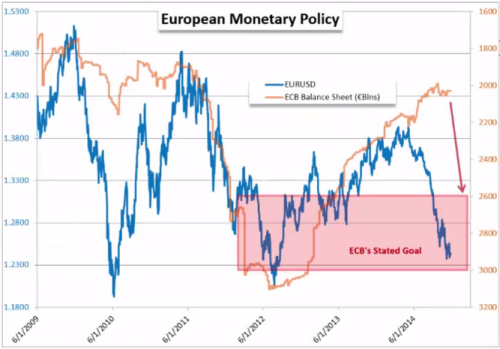 Figure 4. ECB balance sheet(inverted) vs EUR/USD
Also ECB has introduced a more explicit
balance sheet
target into the policy framework. The market have been running well in advance projecting this expansion in ECB balance sheet (see
Figure 4
) as ECB have said they are targeting an increase to match where they where back in 2012. The ECB balance sheet is a reflection of ECB stimulus in the system so this means ECB have to inject between $600B-$1T to match the level from 2012.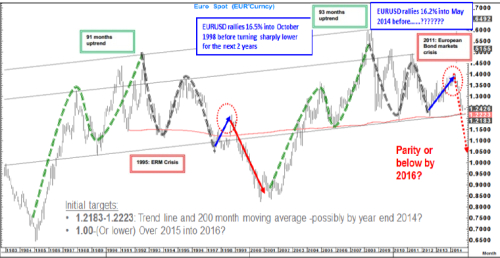 Figure 5. EUR/USD Long Term Chart.


Figure 5
basically is showing a
fractal
that suggest EUR/USD can follow the price action path from 30 years ago, you can see that some phases are developing in some cases at different time scale but this is the nature of fractals. The final stage of this fractal suggest that we'll follow the fractal either in time or either in price:
Time: After the 16.5% rally we topped in October 1998 than we sold of for 25 months until the 0.8225 bottom. But we only change the trend after we broke to the upside in Jun 2002 so this makes in total 44 months, however we should keep in mind both numbers for signs of bottom--> This bearish trend will either end at the end of 2016 or mid 2018

Price: After we topped in October 1998 we had an -34% sell of or devaluation of the euro which means that if we would have that kind of move, we should see EUR/USD below parity at around 0.9200 exchange rate.

Even though UK has posted
strong growth
and it's going to follow the steps of FED and move towards rate normalization cycle the thing that matter in this circumstance is the fact that UK will move
gradual
towards
rate hikes
and much more
slower
than their counter part FED. The second thing that matter in this circumstances are the downward pressure on inflation that are building up and have pushed further in time the first rate hike.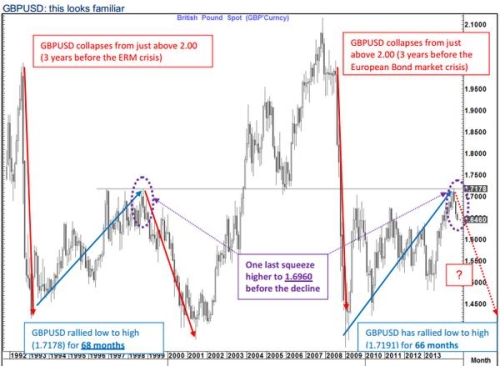 Figure 6. GBP/USD Monthly chart. Fractal
Technicaly speaking cable's
price action
looks quite familiar and it's a fractal of the 1992-2000 price action (see
Figure 5
). We can see that the massive sell off in the 90's resemble the sell off that we had in 2007-2008 and going forward both sell offs have seen a 66 months retracement. Not only that the price action looks similar but also time wise this
fractal
looks similar. This fractal will suggest that eventually we'll have to see another major swing low below 1.3490 before the market to enter in the next phase and the cycle to change to the upside. We also have to keep in mind that the broad base dollar strength is supporting this forecast.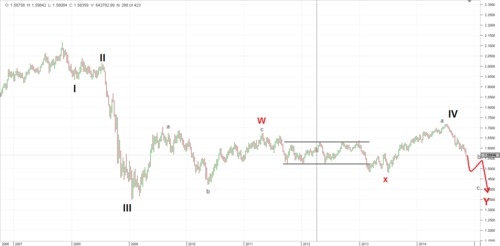 Figure 7. GBP/USD Weekly Chart Elliott Wave count.
In
Figure 7
we can see how based on the
Elliott Wave
count we still need a new low to complete a five wave sequence in order to complete the cycle that started from 2007. Based on the Elliott Wave count we're still in the wave IV stage which is still not completed as so far we can see the market is trying to develop an WXY correction type. Wave Y still need to develop 3 waves of smaller degree.
With the pick up in
volatility
and with the broad based dollar strength the
carry trade
was hit the hardest during the course of this year (see
Figure 8
) and this is not going to change in the year ahead of us. The falling
commodity prices
will likely weigh on aussie and coupled with the China tightening monetary policy are other solid arguments to remain structurally bearish on aussie next year.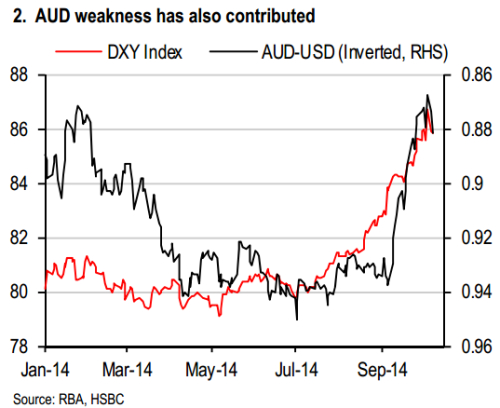 Figure 8. DXY vs AUD/USD inverted
For the past year aussie was following
gold
up until recently when the
correlation inverted
and it seems that gold is leading aussie. The commodity market has already entered in a bear trend than aussie is going to follow gold footsteps(see
Figure 9
). Key month for gold remains Jun 2015, which based on the seasonality cycles is one of the worst month for gold. The
fundamentals
are also supporting this idea as based on a July 2015 rate hike, US bonds should be shorted 3 months ahead of that time which in turn will be the catalyst for another wave of US dollar strength. Gold is
inverted correlated
with the dollar so this will put a lot of pressure on gold.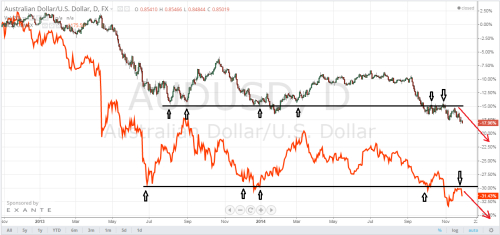 Figure 9. AUD/USD - Gold correlation.
Because of the limited space to write an article I can only say few words about
USD/JPY
. The
additional easing
measures taken by
BOJ
back in October coupled with the broad based dollar strength across the board suggests that the yen will likely stay weaker next year. However due to the raise in
volatility
we can expect
sharp correction
if the risk aversion kicks in.
Best Regards,
Daytrader21