United Kingdom economy has been struggling ever since the financial crisis was triggered there with the bank run on Northern Rock in 2008. The Bank of England had to adjust to an expansive monetary policy in order to avoid further slowdown of the economy. It has introduced the quantitative easing program in 2009 and since March 2009 the interest rates have been at it's historic record low of 0.5%. On the 9th of July 2015 the Bank of England has kept interest rates and asset purchasing program unchanged at 0.5% and 375 billion pounds respectively. Analysts predict that the earliest date for a rate hike could be August 2016.
GBP/USD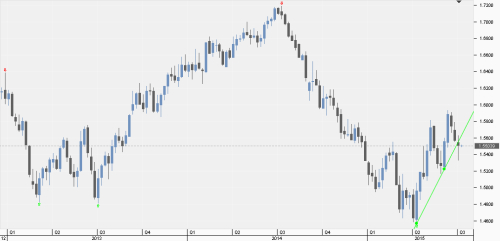 Last week we saw the GBP/EUR drop by 0.98% (biggest weekly drop since June 5th) and the GBP/USD by 0.4% (3rd consecutive weekly drop). But more importantly last week the GBP/USD has broken the upward trend line on which it embarked on at the beginning of April and is currently below it.
BONDS
Last week 10 year UK bonds prices depreciated (yields rose by 0.08 percentage points to 2.08%) amid less demand for safe haven assets due to the improvement in negotiation talks between Greece and it's creditors. Lower demand was also due to the fact, that the planned sales of bonds for this year were decreased by less than previously expected so according to the current plans we will have more bonds on the market at the end of the year. However, 2 year UK bonds prices also fell and their yields edged up by 0.01 percentage point to 0.58%. It is worth noting that the short term bonds indicate the expectations concerning the interest rate while the long term ones are impacted more by inflation rate predictions. The spread on yields between the 2 and 10 year UK bonds has widened to 151 basis points while being at 97 basis points on the 2nd of February (the smallest level since 2008).
UK ECONOMIC SITUATION
The British economy is giving mixed signals in the last couple of months, but most recent data is very positive.
Growth has slowed down in 2015. In the Q1 of 2015 the GDP growth rate has dropped to 0.4% while in 2014 the growth rate for subsequent quarters was 0.9%, 0.9% 0.7%, and 0.8%. On annual basis the GDP grew by 2.9%, more than expected. The growth was mainly due to consumption and investment.
In May manufacturing production has contracted by -0.6% MoM and risen only by 1.0% YoY. However, mining and/or utilities are keeping the lights on as industrial production jumped up to 0.4% MoM and 2.1% YoY. But it's the service sector that makes up more than 70% of the GDP. Index of services is stable at 0.5%. In June Services PMI rose to 58.5 and Construction PMI to 58.1. Gfk Consumer Confidence for June also marked quite a substantial increase to 7.
But what really raised worries about the state of the British economy was the decline of inflation in 2015. Inflation rate was well above 1% throughout 2014 except for December when it dropped to 0.5%. In January 2015 continued it's descend to 0.3%. Next two months saw further decline to 0% and reached an all time record low of -0.1% in April. As deflation loomed, concerns about the growth of the British economy cropped up. Inflation finally ticked up by 0.1% in May and it was the first rise in seven months.
Another positive data coming from the economy is the the rise in wages up by 2.7% YoY. This could hopefully translate into higher consumer spending, higher prices and possibly raising inflation.
The real estate market was one of the main pulling factors in the UK economy during recent years. In three months up to May 2015 housing market prices increased by 5.6%. In June Halifax House Price Index showed an increase of 1.7% MoM and a whopping 9.6% YoY. But now prices are at very high levels and there is risk of a bust. Recent influx of prices has been not that much a result of high demand, but was to a large extend due to limited supply. Therefore, if the supply side picks up, we might see quite a sharp downfall. Furthermore, it is worth noticing that most of the growth on the real estate market in recent years was attributed to the so called 'buy-to-let'transactions. We have seen a surge in these transactions as restrictions were lowered and the initial deposit was decreased to less than 25%. People would buy a property not to live in it, but to gain on the increase in prices and foremost receive an income as a landlord by letting it. These transactions were very often financed through a mortgage. If prices will start to fall then letting a property may become less profitable. This may fuel the supply side and a burst of the bubble is inevitable. An additional risk factor is the rise of interest rates what would increase the costs of operating the mortgages for the landlords and can lead to an influx in supply and spark a downfall in prices. Therefore, as these type of transactions have been a large part of the real estate market, BoE has to take this risk into account and can not rush into a rate hike decision.
Net housing equity injection in Q1 2015 amounted to a record high of 13B pounds and was the 28th consecutive quarter with a positive value showing that the repayment of mortgages is increasing. This is a rather new phenomena as before the financial crisis any additional capital was used for additional consumption and often financed through additional debt. Right now with the rates being so low one would expect the same, but nowadays households prefer to pay off their debt on their house instead of keeping their money on a bank deposit which yields low income due to the low rates. People prefer to repay their mortgage in order to improve their credit rating, but they are not taking new credits for consumption what leads to declined consumer spending. However, other analysts point out that the high net housing equity injection is more a consequence of a lower number of transactions on the real estate market.
ADDITIONAL FACTORS
There is also the question of the impact of a potential default of Greece. Although exposure of UK banks to Greek assets is very limited, what could pose a much larger problem is the their exposure to assets from Eurozone's peripheral economies (in some banks up to 60%). A potential default could result in a decline in liquidity on some financial markets.
Another risk factor arises from China as the turmoil on the equity markets may lead to a slowdown in the Chinese economy. Foreign exposure to Chinese assets is very high and spillovers to the global economy would be imminent. On the other hand, the improving economic situation in the US and Eurozone may have a positive impact on the British economy.
A factor which could contribute to the appreciation of the cable is the fact that many UK companies have started issuing corporate bonds in euros due to the lower interest rates and thus, costs. Unless these companies use the capital collected on expansion abroad, it will strengthen the GBP against the EUR as they will use the capital for investment in the UK.
CONCLUSION
On the 14th of July we will see the release of Consumer Price Index for June. This is a crucial reading as it will provide information on consumer prices and it is the measure of inflation. This reading will provide some indication on whether a potential rate hike will take place earlier or later than August 2016, as current expectations of analysts show. Therefore, this release may pinpoint the direction of the GBP for the upcoming weeks. A reading on or above forecasted target (decrease to 0.1% from 0.2% MoM and same level of 0.1% YoY) will lead to appreciation of the cable. However, a reading below the forecast will undeniably lead to depreciation. Apart from this release there are many growth risk factors looming in the UK economy. And the BoE is aware that a rate hike implemented too early could hinder growth and even lead to recession.
Thus, my long term outlook for the
GBP/USD
is
BEARISH
.