Introduction
In this article, GBP/USD will be analyzed both fundamentally and technically and as known nothing is impossible in Forex, so different scenarios will be drawn to express about the most probable scenarios with the GBP /USD.
What is affected the move of GBP/USD nowadays:
Fundamental Analysis:
GBP/USD is affected now by two different policies by both Bank of England (BOE) and United States Federal Reserve (FED) and also affected sometimes by UK internal issues like last Scotland independence vote which spread fears about UK unity, finally pound and other currencies is affected due to strong growth in US in the last months which make US$ to be favored.
Different policies by BOE and FED:
One year ago, BOE hinted about possible rate hike after improvement of employment and inflation which hit 2%, but after strong fall of inflation to below 0, BOE still not able to talk about possible rate hike before next midyear.
In different, US FED is ready to raise interest rate for the first time from years, FED delayed its first rate hike more than once in order to prevent broad US$ gains which may dampen US growth, this time rate hike is very near but if something horrible hit markets again, rate hike may be delayed more.
Extremely low inflation in UK:
UK was the first advanced country to raise rates last year after advancing of CPI to 1.9% in last July, 2014 but then sharply fell to below 0 in last May release which where first time UK inflation negative since 1960.strong losses of oil prices in this and last year is the main responsible of low inflation in both UK and different advanced countries.
US growth still so strong in last quarter as it growth increase 3.7% in last quarter VS 0.6% quarter before, last US growth Q/Q were as follows (4.6%, 4.3%, 2.1%, 0.6% and 3.7% last quarter), US growth momentum still accelerating and this growth is very supportive for US first rate hike.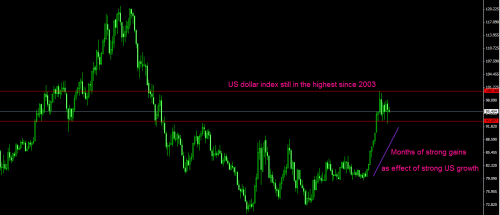 Technical Analysis:
GBP/USD Still stuck in arrange between 1.5000 and 1.6000 for the last five months, also between 1.4500 and 1.6000 in the last ten months, after strong losses after strong fall of UK CPI, GBP/USD still not able to make clear break and close above 1.6000 after many failing tries, so in this view, different scenarios are drawn for GBP/USD movement for the last months of the year or for 1/1/2016.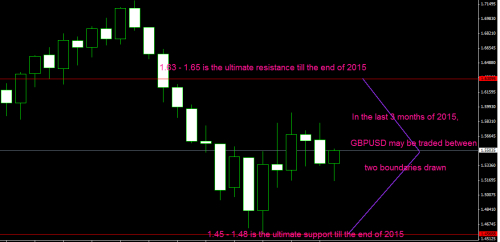 First scenario: GBP/USD will stay between 1.5000 and 1.6000
Expected probability 50%, as this range is wide range – about 1,000 pips- then the pair may move between this range for the last 100 days of the year.
Second scenario: GBP/USD will break up 1.6000
Expected probability 30%, GBP/USD make strong bottom around 1.4500 and holds above 1.5000 from 5 months ago, then it may help the pair to clearly break up 1.6000 for a goal to 1.6500.
Third scenario: GBP/USD will break down 1.5000
Expected probability 20%, if GBP/USD still hold below 1.6000 and if it fail to break it up in the near next time, then it may break down 1.5000 to hit 2015 low near 1.4500 again.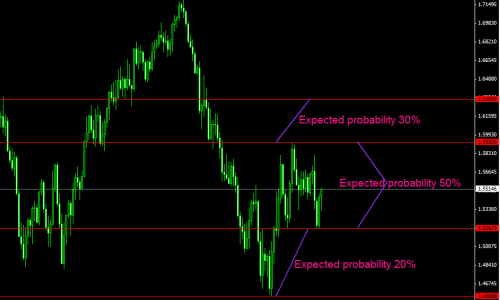 Conclusion:
GBP/USD is highly expected to close the year below 1.6000 with probability of 70%, breaking above 1.6000 will send the pair strongly higher towards 1.6500, lower probability is expected for pair to break lower 1.5000.