Fundamental Analysis for the upcoming week:
This Builds on the previous week. Last week there some big Fundamental releases and the major Currency Pairs had some fairly large moves too.
Relative to the USD
CAD - +0.99%
AUD - +0.35%
GBP - -0.26%
JPY - -0.72%
NZD - -0.80%
EUR - -1.88%
CHF - -1.98%
Last weeks main Event in my opinion was the 3 Year LTRO release from the ECB. This was how much money the ECB was to loan out to 800 banks across Europe at just 1%. The number came in at EUR 530Bn.

This is a major risk event as this is designed to give stability and liquidity to the banks and large institutions. The main fear is the increase in the leverage of the ECB as it now supports more debts that it has loaned out with no more hard tangible assets, thus increasing its leverage.
Therefore a small fall or default from a few of those loans then a total loss could happen and this would be very bad.
Anyway the upcoming week should build on the previous week as it seems that there could be further weakness from EUR and CHF as seen in the end of last week.
Because of the VERY high amount of fundamental Releases this week I will include more than the usual 5 top ones as there are just so many of importance.
1.) ISM Non-Manufacturing PMI: Due to be released at 1500GMT On Monday 5th March.
This is another indicator with 50.0 being expansion/contraction line and any print over 50.0 is technically improving but mostly traders care about the rate of change as a fall from 75 to 50.1 is very bad even though its above 50 etc.
It is derived by 400 purchasing managers and their sentiment on the markets.
Last month we saw a print of 56.8 against forecasts of 53. This was Quite a good release but due to the fact it was released after the last NFP report means the Bullish potential was dampened and only 50 or so pips were gained.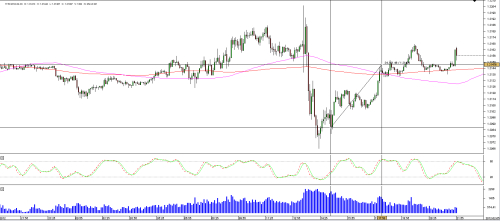 This week we have forecasts of 56.1, like last months release a higher than expected number by over 1.0 would be bullish for EUR, AUD and NZD by in the area of 30 pips.
The opposite wold be true if we saw a print under estimates by more than 1.0
My bets are leaning towards a better than expected release as we've seen consumer confidence rise and that is the basis for most demand in the economy.
2.) AUD Cash rate: 3:30GMT on Tuesday 6th March, Being released simultaneously with the RBA statements.
This is the Interest rate set by the Central bank Of Australia or the RBA, at the moment it stands at 4.25%, most people expect it to stay here this month but some believe a 25 BPS drop down to 4.00% is going to happen.

Last month most expected a drop but that never happened and so AUD rises as its high yield characteristic stays in tact. Due to this the 110 pip spike was not surprising.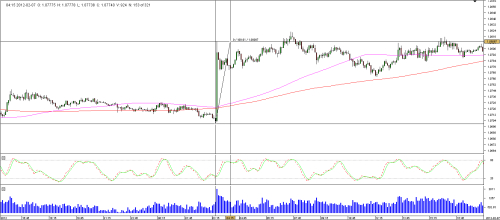 As we've got estimates of 4.25% this month we have a good benchmark for a 25 BPS change of 100 pips. Therefore if the RBA came out and said that they're setting 4.00% interest rates then we'd expect a fall of 100 pips and a rise by 0.25% would be accompanied by a rise of 100 pips.
3.) AUD GDP Q/Q: Being released 00:30GMT on Wednesday 7th March.
This measures the relative change of the total value of good and services in Australia compared to the previous year.
Last quarter there was a rise of 1.0% against estimates of 1.0% and so the move wasn't huge with just a modest 30 pip spike.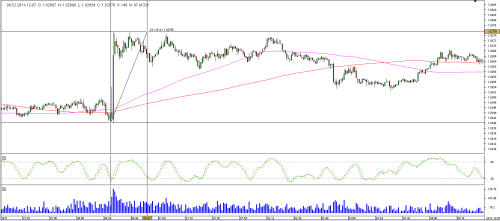 This week we'd expect a similar response with a on-estimate result with a larger 50+ move with GDP coming in at +0.2% above the estimate of 0.7%. Similarly a fall would see AUD fall quite fast against most majors.
4.) NZD Official Cash Rate: 20:00GMT on Wednesday 7th March.
This is of similar importance to the AUD cash rate as it is the interest rate set by the central bank or RBNZ. NZD is also a higher yielding Currency at currently 2.50%
Last month RBNZ held interest rates at 2.50% and that was on forecast but that is still bullish for NZD as the current economic conditions are quite difficult and if the RBNZ doesn't feel the need to lower interest rates to boost growth and is comfortable with current rates.
Because of this the NZD rose, but it was after a bullish move anyway so the move was over extended at 50 pips.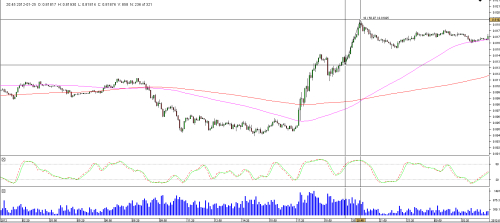 5.)
GBP Official Bank rate / Asset Purchase facility:
Released at 12:00 GMT on Thursday 8th March
This is once again similar to the previous two bank rates, this time set by the MPC of the BoE.
It is pretty much guaranteed that 0.5% will be the estimate and print for next month but what is interesting is the asset purchase facility as this shows how much money the BoE is "printing" and injecting into the economy.
Last month there were estimates of 325B and we had a print of 325B. This should be bad for GBP as it increases the supply of GBP's and therefore should push the price down.
However there was an initial spike the GBP depreciated over the next few hours by 100's of pips.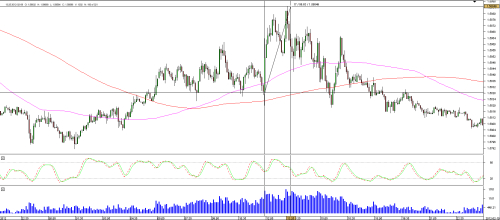 Like I said it is expected that there will be no change in either Interest rates or Asset purchasing and so I expect some volatility but no real direction.
6.) EUR minimum Bid rate : released at 12:45GMt on Thursday 8th March by the ECB.
combined with this there is a 45 minute conference held after it were question from the press are answered.
Last month there the interest rate was set at 1.00% on estimates of 1.00%, but it was really the conference afterwards that added the movement to the EUR. As shown in the charts there was a lot of up and down in just an hour with 30 plus 5 minute bars being commonplace.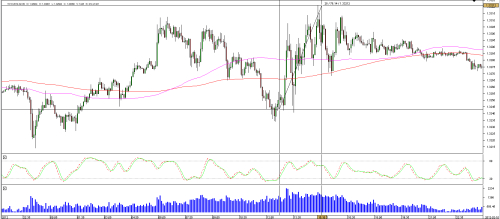 Most estimates are of 1.00% again but the conference afterwards is the key factor and that can't really be predicted.
Due to the fact that there is a lot of Fundamental data released from 12:00GMT to 13:30 GMT I would recommend watching the EURGBP as this is in the main spotlight.
7.)Non-Farm Payroll - NFP: 13:30 GMT Friday 9th March, released by the bureau of labour statistics.
This is the single biggest monthly Economic release, it measures the increase or decrease of people in jobs over the month excluding those who work in the farming industry.
This is a perfect example of the risk trade which I've talked about many times. Sometimes if the number is very bad from the US then there is fear over the entire world economy as the US is the single largest country is terms of economic impact.
Therefore if a bad number came out for the US, the USD may rise as people seek a safe haven and buy treasury bonds (seen as the safest asset.) and from this the USD goes up as people need to buy Dollars to purchase T-bonds.
Last month there was a very good NFP print of 243K vs estimates of 150K. This is good for Riskier assets such as EUR, AUD, NZD, CHF and GBP.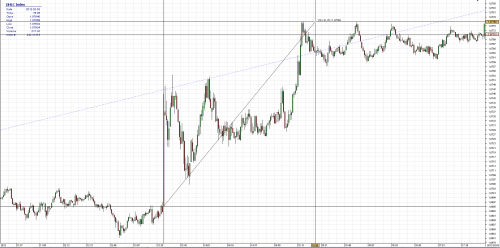 Here is the effect on
AUDUSD
, it was quite a move upwards as it is most sensitive to risk.
However EUR didn't respond well and that is most clearly seen with EURAUD as it falls very fast and very far.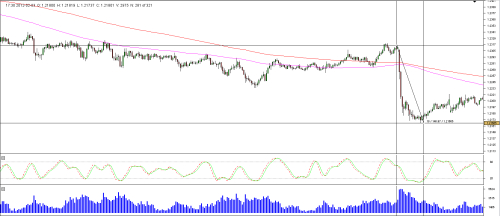 Thanks,
Adrian.