Macron a 39-year old former investment banker won a decisive victory on May 7. He gathered more than 66% of the French vote against far-right's 33.9%.
He now tackles a battle to gather a parliamentary majority in National Assembly elections on 11 and 18 June.
Macron worked for Hollande from 2012 to 2016, first as a senior adviser and then as economy minister. Opposition from Hollande's Socialist camp forced Macron to backtrack on his ideas and proposals.
He resigned as economy minister and branded his fledgling political movement, En Marche!
A historical perspective offers similarities among Macron's election and Napoleon's arise to power.
During the French Revolution, from 1795 to 1799, the army led by Napoleon Bonaparte was nearly unstoppable. Brilliant victories brought him recognition, wealth and support.
Hearing of instability in the country, Napoleon deserted the battle field and headed back France. When returned, he overthrew the Directory (a committee which governed France from 1795 to 1799) and dissolved the legislature.
He instituted himself as first consul and the leader of a military dictatorship. Napoleon effectively ended the French Revolution.
Macron glimpsed Napoleon's move. He deserted the Socialist party, while the far-right and the far-left were diffusing attentions, still focusing most of it on mainstream parties.
Macron has unveiled his first government, composed by an unprecedented mix of figures from parties on the left, right and centre.
Here is the big picture: 1 prime minister, 18 ministers and 4 junior ministers who will sit in cabinet – a total of 23 appointments; 4 from the Socialist party, 2 from the far-left party, 3 from the MoDem party, 3 from Les Républicans and 11 from civil society.
If Macron wants to be able to govern, he will need a majority in the National Assembly. Several opinion polls found Macron's party set to win between 29% and 31% of votes in the first round on June 11, ahead of all other parties (source: Reuters available on [1]).
When all territories are included, 289 seats are needed for an absolute majority of a total 577 seats in the lower house.
Recent government appointments might shake up traditional political parties' support, with voters fleeing to Macron's side.
On December 2, 1804 Napoleon crowned himself Emperor Napoleon I at Notre Dame de Paris. During the coronation, Napoleon snatched the crown from the hands of Pope Pius VII and crowned himself.
If Macron's party wins the second round of the French National Assembly elections with majority, it might be regarded as his "coronation" on June 18, 2017.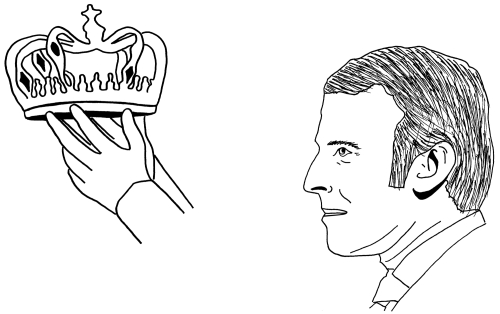 A majority victory would make needless the support of mainstream parties, mirroring Napoleon's rejection of Pope's authority.
June offers a couple of events and the EUR/USD exchange rate will likely be influenced by them. Here is a brief schedule:
June 8: ECB meeting;
June 11: French National Assembly Election – first round;
June 14: Federal Reserve meeting;
June 18: French National Assembly Election – second round.

Marc Chandler [2] Head of Global Markets Strategy at Brown Brothers Harriman noticed on his blog that:
investors and policy makers are growing increasingly confident that Europe has turned the corner.

(...)

[An ECB] decision to taper and extend the asset purchases into next year is expected later this year.

(...)

Political risk in Europe has diminished at the same time US political risk has increased.
Chandler [3] also notes that the Fed:
sees its objectives sufficient close (...) to continue to normalize monetary policy, and soon to reduce the balance sheet.
The populist-nationalist threat has diminished in Europe and the recent economic recovery across euro area member countries bodes well for chancellor Angela Merkel as she seeks a fourth term in September. Within an economic environment where the euro is regarded as "too weak".
Katie Allen [4] the Guardian's economics reporter stated that:
Now, the economic picture for the currency union is looking brighter.

(...)

[Though] More recently, sentiment has been hit by uncertainty about Athens's ability to afford loan repayments that fall due in July after eurozone finance ministers meeting this month failed to agree a deal to unlock a tranche of bailout funds for Greece. Hopes now rest on talks in mid-June.

[1]
http://www.reuters.com/article/us-france-election-idUSKBN18P19A

[2]
http://www.marctomarket.com/2017/05/greenback-stays-on-defense.html

[3]
http://www.marctomarket.com/2017/05/nothing-like-good-us-drama.html

[4]
https://www.theguardian.com/business/2017/may/27/growth-unemployment-five-big-eurozone-economies