Review of the last week
Beginning last week marked the continuation of pressure on the dollar for the last nfp who was disappointed and I went out to the data of only 38k in relation to the expected 165k. But as Sunday progressed dollar is coming back all the losses and the finals Sunday press the advantage in relation to other currencies.
Although the euro was one of the currencies that have strengthened the most against the dollar in the nfp despite good data that marked last week and especially more than expected gdp in the EU, euro is start to loosing momentum on the end of the week. Reason for that we can find in brexit polls where Britons will decide to stay in EU or not. Last polls shows that ,,leave" have some advantage and that bring risk for both UK and EU. Because of that euro and pound was on the big pressure on the two last days of the week.
Usdcad was very choopy last week and the main reason for that is that oil was on the crucial resistance and some false breakout and bouncing from resistance level of 51.6$ lead huge volatility on usdcad. This pair fall around 150 pips last week but that can be worst for usd because in the last two days usd recover on almost all pairs.
On the yen traders start to build positions before crucial next week for this pair when both central banks would bring fresh details about monetary policy and about changing interest rates. On FED last predictions tell us that hike on interest rate are minimal and traders look on BoJ which could bring some surprises on the market with some deep cut interest rates on negative territory.

AUDUSD

Fundamental analysis

Last week audusd rebounded sharply because many reasons. The main is weak NFP and no cut on RBA interest rate decision. Before couple weeks market expect different story on audusd and that story was that RBA will continue to cut rates and US will bring on the markets some more strong data on NFP. Expectations was not good and aud bounce from fresh lows on many currency pairs. On the next week FOMC will be key event in all usd pairs on determining the future trends. Australia in next week don't have big impact data but traders will closely watching trade balance in China.
Technical analysis
AUDUSD closed at 0.7363 and its highest weekly close since April. Opening price was on 0.7178 and first start to fall but that fall didn't last because after drop of 40 pips audusd start to raise before RBA. Strong gaoin on audusd was after RBA. Price of 0.75 was strong resistance where audusd stop with rising and make some correction on the downside to closing price.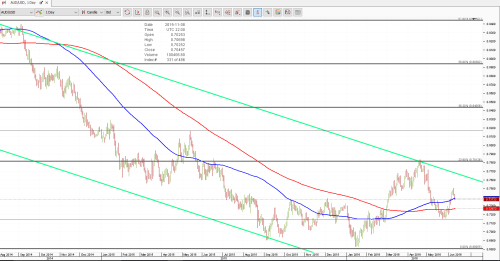 Chart 1. - AUDUSD daily
The main supports and resistances is:
Support 1 - 0.7340 cap from the end of the last year
Support 2 - 0.7267 DMA 200
Support 3 - 0.7146 low from this month
Resistance 1 - 0.7502 high from the last week
Resistance 2 - 0.7600-0.7620 downtrend line from chart 1
Resistance 3 - 0.7820 high from this year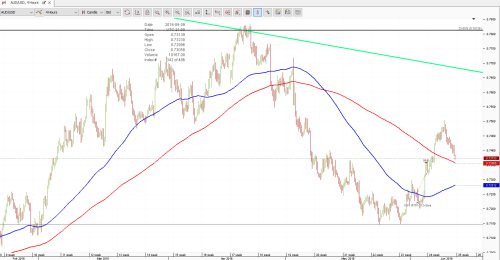 Chart 2 - AUDUSD h4
My view
After more hawkish than bearish RBA audusd start to recover and provokes some resistance. My strategy is to wait the FED and if they dont bring hike what market expect I will try to find good price to start buying this pair.