FX performance Q3 highlights

Dollar slightly down in Q3, dollar/yen flat as Fed maintains rate hike path but other central banks catch up.

Euro rally pauses after reaching 2 and ½ years high in September. ECB is proceeding gently with tightening policy. Political risks re-emerge in Europe.

Pound has a good Q3 quarter after a surprise hawkish shift by Bank of England. Brexit talks gather some momentum but take its toll on UK economy.

Commodity rally (especially metals). Oil also has a positive quarter amid signs that market is finally re-balancing.

FX year to date

US dollar off its lows as one more rate hike expected.

Euro's rally has stalled on some political setbacks and ECB's dovish tapering. Rise in German yields.

The pound up versus the dollar, down versus the Euro.

Aussie did well despite correction in Oct 2017, Kiwi is flat versus dollar.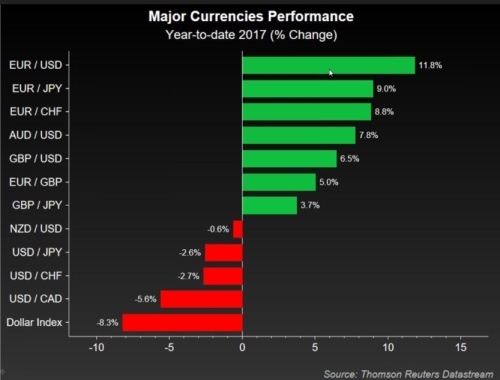 United Stated Economy

Q3 GDP growth came in at 3.0%.

Headline Inflation for September 2017 was 2.2% y/y. Core PCE came in at 1.3 % y/y in Sept.

And Unemployment rate was 4.2% in September at its lowest since February 2001 –Average hourly earnings grew by 0.5% m/m in September, year-on-year growth rate at 2.9%.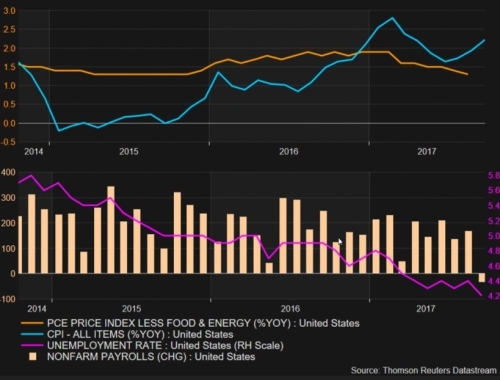 President Trump

Donald Trump attempted to deliver on Tax Reform. Uncertainly in delivery still remains.
Is "Trumpflation" trade back on the table?

Ongoing NAFTA negotiations – will the trade deal survive.

US-North Korea spat – serious or mere rhetoric?

Federal Reserve

Fed signaled that it remains on track to deliver an interest rate hike for third time this year.
Fed fund rates currently stands at 1.00 -1.25% range. December Hike odds currently exceed 90%. And Fed balance sheet reduction underway.

Trump announced that Fed Governor Jerome Powell will succeed Janet yellen as Fed Chair.
EuroZone Economy

Eurozone growth rate in Q3 is 0.6 % q/q. On an annual basis, GDP grew by 2.5% showing positive signs for euro area recovery.

Headline Inflation at 1.5% y/y in September. Core Inflation in September was at 1.1 %.

Unemployment in September 2017 was 8.9%, lowest since January 2009.

Eurozone Business surveys data such as PMI coming in Healthy. Investors morale rising to multi-year high.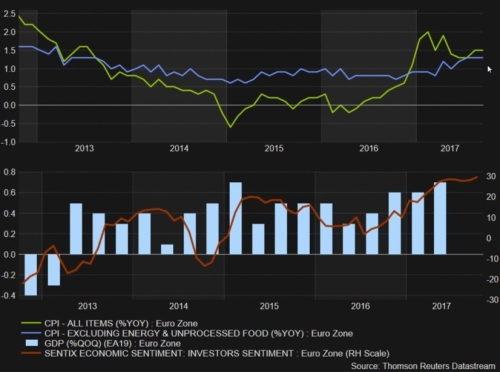 European Central Bank

Interest rate remains unchanged at 0.0% with deposit rate at -0.4% and Marginal lending rate at 0.25%.

At last ECB meeting, ECB declared that asset purchase plan from January 2018 will be 30 billion EUR.

ECB reiterates that present low rate to continue at extended period of time .


European Elections – Are Uncertainties making a comeback?

Europe seemed to be moving against the trend set by Brexit and Trump's victory, allowing the Euro to rally.

However – French President Emmanual Macron's and German chancellor Angela Markel's popularity is falling – Strong showing for far right in Austrian elections – Spanish crisis (Catalan independence) – uncertainty over Italian elections in 2018.

Future relationships with Britain still an uncertainty as Brexit negotiations are underway.
Japan Economy

Japan Q2 2017 GDP growth at 0.6% q/q (sixth consecutive quarter of growth in a row).

Inflation was 0.7% y/y in September 2017. Inflation (CPI ex Fresh foods) grew by 0.2% in September 2017.

Unemployment remains low at 2.8% (lowest in 23 years). Wage growth in August 2017 rose by 0.9% y/y.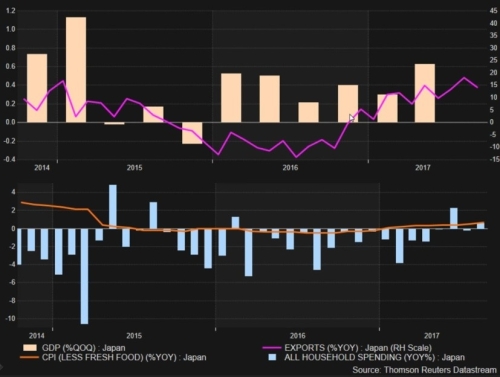 Bank Of Japan

BOJ scrutinized on missing inflation target (2%).

Prime Minister Shinzo Abe's victory last month election increases the odds of Current Governor Haruhiko Kuroda being reappointed. "Abenomics" would remain in place supporting weaker yen.

BOJ maybe the case of central bank policy hitting its limit.


United Kingdom Economy

UK economy grew by 0.4% q/q in Q3 up from Q2 0.2%, Year-on-year expansion stood at 1.5%.

Inflation at 3.0% y/y in September (August's at 2.9%) and its highest since April 2012.

October Markit PMI at 56.3. and September's at 56. October Services PMI also at 55.6.

Job Market resilient to Brexit. Unemployment rate at 4.3 in three month to August lowest since 1975.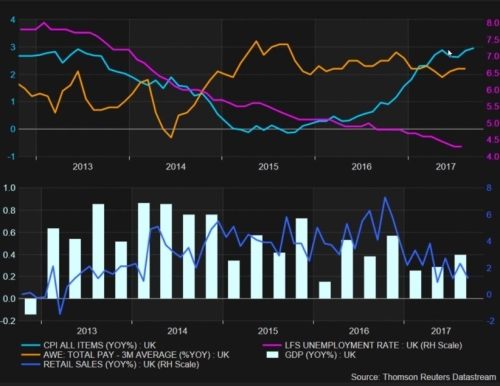 Bank Of England

Rates were increased to 0.50% in last meeting but dovish signals by BOE.
Doves at BOE see current spike in inflation (from sterling depreciation) as temporary.
BREXIT
Negotiations still struck in settling terms of divorce.
UK is urging the EU to move the discussions to phase two on the future relationship( i.e. transition deal and trade) but EU says significant progress must be made first in divorce terms.
May meets with EC president Jean- Claude Junker prior to Oct 19-20 EU summit to break deadlock. EU signals for possible December start for trade talks.
Pound lifted by signs of progress towards phase two but businesses disappointed about lack of urgency.
Other Main Assets and their performances
Chinese economy grew by 6.8% in Q3 17 below Q2's (as well as Q1's) 6.9%. As such Australia's GDP is at 0.8 % in Q2 17, inflation at 1.8% in Q3 2017 and unemployment rate fell in September to 5.5%.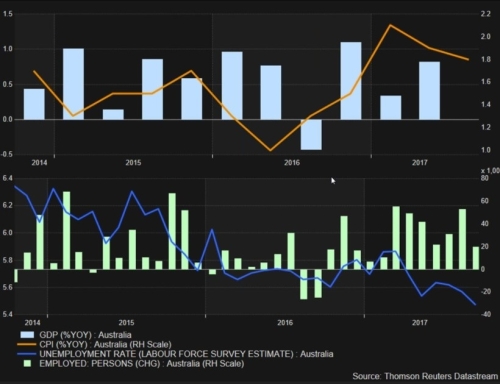 WTI/US prices rally in 3rd quarter amid signs of tightening market and currently above 55 usd/barrel.
Gold has gained 11 percent for the year despite improving risk appetite, equities rally and low volatility.

Summary of Currencies.

Some hopes for dollar on rate hike, tax cuts, new Fed governors and chair

Euro has Catalonia, ECB and politics. Region's economy doing very well.

Pound- Economy and markets giving brexit the benefit of the doubt but watch out for news from negotiations.

Yen is more of the same, Abe Stimulus, BOJ QE.

Aussie, economy good but lower for longer. Kiwi has politics effect.

Loonie – boost from rate hike, oil and economy but has NAFTA uncertainty.

Trade Ideas

US dollar looks to be having better time against Yen rather than Euro

Euro rally has run into some political turbulence. ECB was dovish and will be in coming months.

Poind is bearish on brexit talks. short covering rallies a danger.