GOOD MORNING ALL !!!
I regularly trade on EUR/USD so I have decided to analyse fundamental factors for the growth of EUR last year. As this year, from the last three months EUR/USD trending sideways so my attempts is to find out which side it may break.
I have deliberately mentioned speculation in the title of my article, as in 2017 on many occasion there were several discussions about the topic that, European Central Bank may end quantitative easing programme as scheduled in December 2017. When I look back in history, Eur's downfall started in 2008 as Eurozone and world witnessed a recession. Falling growth, rising unemployment rate, falling inflation so ECB started Quantitative Easing means a bond buying programme in 2015, to raise money supply in the system and lowered interest rates to negative. Rising money supply makes loan cheaper and so tends businesses and people to spend more on various fronts. Like investments in business expansion may grow up which in turn leads to rising employment and economic growth.
Disclaimer : Made by me from data source on ECB website.
Last year we have witnessed a low of 1.034 in EUR/USD and from there it has grown almost 2000 pips and this year touched a high around 1.26. EUR is also appreciated against all its counterparts and in some pairs it has touched its pre downtrend high like in EUR/AUD. Some market analysts on many occasion said ECB President Draghi may talk down the Eur but Draghi hasn't said anything which will hamper the growth of Eur. Instead he focused on only one thing that if Eur rise is supported by fundamental factors, then there is nothing against the interest of ECB and just kept telling market participants that if inflation picks up as per ECB target of 2% then ECB might consider ending QE early as everybody understands adverse effects of QE if it is unnecessarily extended beyond limits.
FIRST WE MUST KNOW WHAT DRIVES CURRENCY'S RISE OR FALL?1. INFLATION:
It is the biggest concern in Euro region. Downfall in the inflation started in the beginning of 2014 and in the end of the year it went into negative which is also referred as deflation. So to support economy ECB announced QE in the January 2015 and started Bond purchasing programme in March 2015.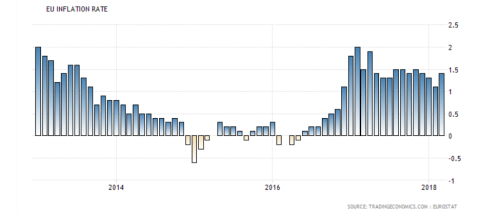 3. CURRENT ACCOUNT DEFICIT.
When we check and compare current account year on year basis we can clearly see there is growth in current account means in balance of payment in year 2015, 2016, as compared to year 2014 and 2013. In year 2017 it is almost same as in 2016.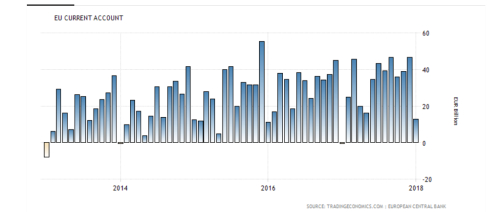 4. POLITICAL STABILITY
There is no any major any political turbulence in countries of Euro region. In the elections in France and Germany pro growth and pro reform parties got elected an formed government. So this also added to rise of Euro. We have seen Euro rally started. after French Presidential election as Pro reform Emmanuel Macron.
5. PUBLIC DEBT.
Public debt in Euro region is falling as GDP of Euro region is growing which impacts Government borrowing costs and government bond yield.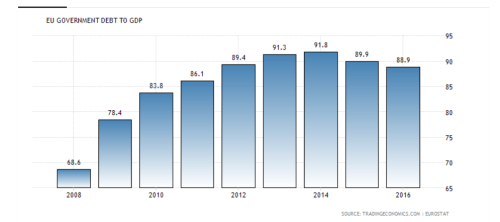 GDP OF EURO REGION.
GDP of euro region is showing growth so investor have faith in Government's ability to pay back debt so bond yield also rising. In 2017 GDP has picked up swiftly over previous periods in 2016 and 2016.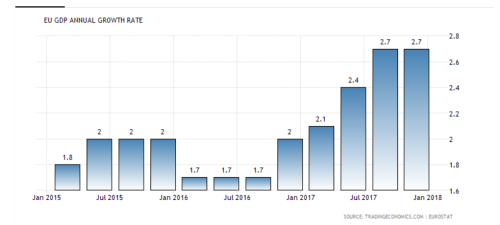 Various economic analysts giving healthy forecast for GDP growth in Euro region in 2018. Economic recovery has various reasons to grow further as it is supported by growth in private consumption which will be sustained by rising employment level and robust gross fixed capital formation underpinned by high business sentiments. In other components domestic demand will be supported by accomodative monetary policy by European Central Banks in terms of QE which they expected to continue till the September 2018 and after very minimal gradual tapering of bond purchases thereafter.
So upon analysing various economic factor I come to the conclusion that Eur rise is supported by fundamental factors. Now Let us have a look at technical levels in EUR/USD.
I will start with the daily chart.
Recent rally of EUR/USD has started from the level of 1.155. And then it has made high of 1.2553. When I touched these two points for Fibonacci Retracement levels as follows.
1st level of 23.6% comes at 1.23174 around which it is taking support several times.

2nd level of 38.2% comes at 1.21712 this level it has touched once and bounced back.

3rd level of 50% comes at 1.20530 it may test only if it breaks the level of 1.21.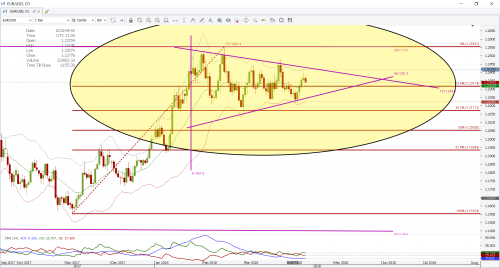 If one will look at the chart minutely you can find the descending triangle pattern. And it is in sideways trend on daily chart. Means pair is just trading between range of 1.24 and 1.21. Technical trading suggest there is no trade in the pair unless it breaks either side of symmetrical triangle. Then for the short term one can find trade on hourly chart in intraday trade.
WEEKLY CHART
It clearly suggest
sideways trend.
Pair in going nowhere. When I had a look minutely on each candle of every week and compared altogether I come to the conclusion that
buyers and sellers are in agreement.
From upper levels selling is seen and from lower levels buyers making entry into the pair.
So unless and otherwise EUR/USD breaks either side of the range and successfully closes above 1.25 levels then only I will suggests buy entry and I would not suggest sell for now as EUR/USD has the capability to touch its previous high 1.50 as most probably ECB will end QE in September 2018 as economic growth is picking up and this will add to the inflation.
For my own analysis I am waiting for the correction to the levels of 1.20 and then I will enter into long position for the target of 1.40 which is the next major resistance of the pair.
MONTHLY CHART
Monthly chart gives idea on larger time frame.

As per it EUR/USD was in downtrend since 2008 when world witnessed recession.

Last year when ECB kept deadline December 2017 to end QE. After consolidating for several months EUR/USD started rising. It is supported by the fall in US Dollar index.

As the trend line suggest as and when EUR/USD closes above 1.255 levels uptrend will be confirmed and I believe speedily EUR/USD will touch the levels of 1.40 which is its immediate major resistance.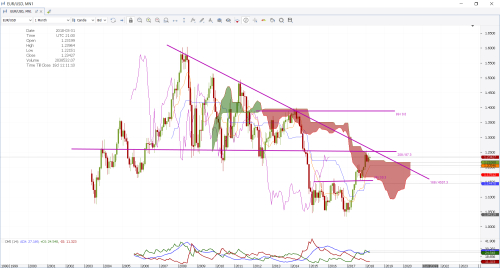 So this is all my dear friends, Hope you will enjoy reading my article. Kindly leave your comments below in comments box.