____________________________________________________________________________________
Introduction:
In this article, I am going to examine a variety of commodities, both short and long term outlooks and rational for the moves that we have seen across a wide spectrum of commodities from; energies and
precious metals.
____________________________________________________________________________________
Precious Metals:
Silver -
Silver has been very volatile in 2013 so far and very volatile recently, having started the year at $30.20/oz it rose to a high of $32.48/oz before coming down hard currently at $26.75/oz (4th April).
This drop equates to around an 18% fall in the precious metal since mid-January highs.
This drop can be seen in the chart below. While this shows the price action for the past few years it is clear that silver has dropped off a cliff in the past few weeks.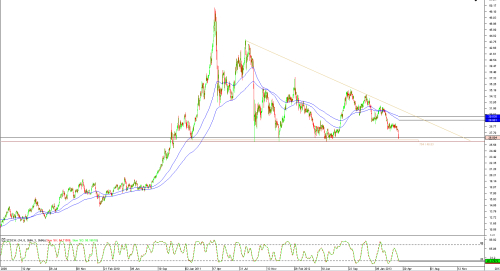 Silver daily chart, JForex
However what is most evident is the large support level where XAG/USD has bounced 3 times previously. While, it cannot be shown as an exact price, you can see the rectangle area of support ranging from $26.10 - $26.40 / oz. There is noted demand at this level, and depending on when you are reading this, we have either broken
firmly
below. In which case it would seem that we are heading towards at least $20/oz.
That being said, if silver finds this level supporting for the 4th time, then we will head upwards to the upper resistance level formed by the downward
triangle
at around $29-30/oz.
Gold - Much like Silver, gold has struggled this year, currently 9.2% off its yearly high. Both silver and gold has been damaged by the strong USD. This is because the price of these Precious metals, along with most commodities, are priced is USD. Therefore if the dollar rises then the commodity price will fall.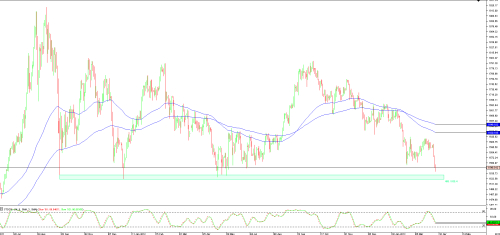 Gold daily chart, JForex
As can be seen, the large area of support is lurking just below the current price as of writing, this means a test of $1530/oz could act as a decent area to buy with tight stops and good risk:reward ratio. However considering the huge levels of stimulus from the BoJ we may see the inflationary and monetarist view of gold to come back; that is, as gold is scarce it will be bullish with more QE.
Copper -
I'll just into this one quickly as I've mentioned it previously, the Price of Copper has dropped over 10% in recent weeks and after breaking below a key trendline, it looks like another 10% drop is likely.
What is most evident is the strong correlation to the AUDUSD fx rate, however a disturbing divergence has occured in the past few months.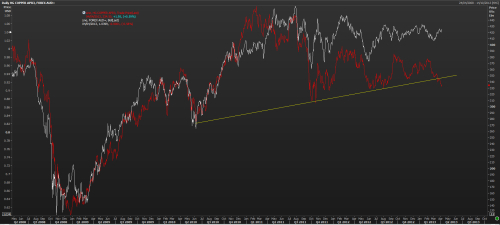 Copper, red vs. AUDUSD, white. Thomson Reuters Eikon
As shown above copper has broken below a multi year trendline and looks like it could be headed 300 c/Lb.
While Copper futures price AUDUSD at 0.91, this is a multi year divergence, however there is also a short term divergence which can be more telling.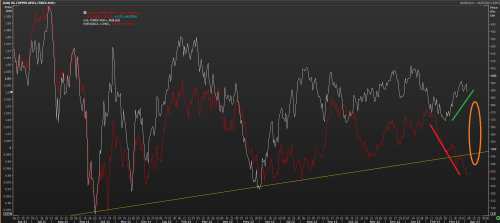 Copper, red vs. AUDUSD, white. Thomson Reuters Eikon
In the shorter/medium term, AUDUSD is only valued at 0.98 against Copper, Still 600 pips below current market price however.
These divergences have historically taken 3-6 months to re-converge However because of the magnitude of this one it may take longer.
____________________________________________________________________________________
Crude Oil:
Crude oil futures have had a choppy start to year, following a monthly trend of rising in January, then falling in February. It then turned and rose during the month of March, and now as April has started it has started to fall again.
Generally speaking it is in a broad range between $98/Bbl and $89/Bbl. For the short term it seems to be staying in this range, mostly being driven by geopolitical factors over the few years, means that there is no definite trend at the moment. So the recent volatility seen by a 5.25% drop in 2 days is unsurprising considering many factors such as North Korea and Chinese demand.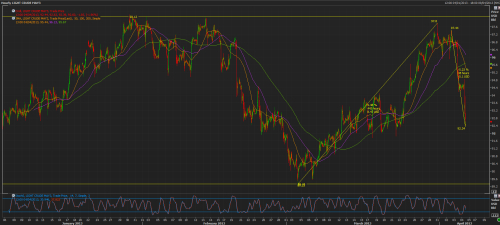 Crude Oil futures with Moving averages, Thomson Reuters Eikon
While it clearly has been volatile so far this year, a longer term direction may be seen through looking at the rate of Chinese Imports of Crude Oil. As you can see below, it has risen significantly and is far higher than the 2008 peak, this suggests the that the China is the main driver of Oil demand. This is because an overlayed chart showing the Oil price.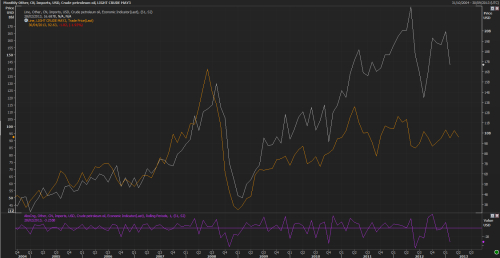 Chinese imports of Oil, white. vs. Crude futures, Orange. Thomson Reuters Eikon.
This shows that if it wasn't for rising Chinese demand, the Oil price would be much lower - Around $60-70/Bbl. This means that it is taking up all the slack from Western countries drop in demand for imported oil.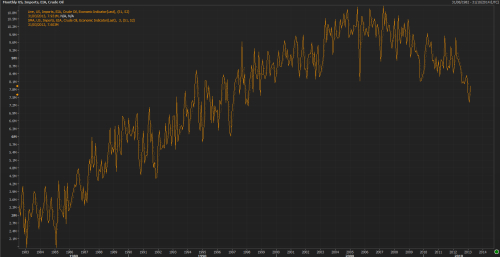 Oil imports, Thomson Reuters Eikon.
This last chart shows the falling imports for Oil within the US.
____________________________________________________________________________________
Conclusion:
Precious metals have been really hit hard so far this year and mostly due to the strengthening USD. On top of this Crude oil prices have been very volatile with little direction but one may be emerging soon as US imports drop even further.
However broadly speaking the majority of this fall has been caused by the strong USD and as shown by a blank chart of the Dollar Index showing how much prices have rallied since February.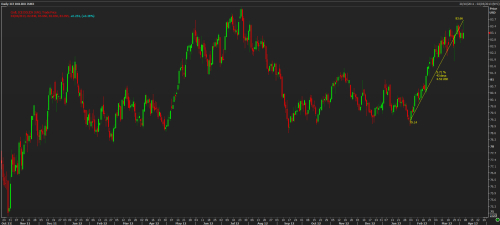 Dollar index, Thomson Reuters Eikon
Thank you for reading and I hope you have enjoyed this insight into recent commodity moves.
Adrian.