Comenium88
posted an article : 2 May
Dear Readers!
April is long gone and it's time for me to show you more tips regarding my favorite topic - Usage of Pure Price Action (PPA). This time I will describe some connections and dependencies between fundamental and technical trading. I WILL NOT TRY TO PROVE that DOW theory cannot be applied in Forex market (that I will do in next article). Instead I will show you that sometimes technical and fundamental analysis go arm in arm and if you notice that on time, you just might profit from that.
Once again I will explain the general idea using EURUSD and USDCHF case study so you have real image of how things work for me.
EURUSD M15 TIME FRAME
The chart above shows you some price action regarding downtrend that occurred on EURUSD in the middle of March. I will not pay too much attention on the trend lines themselves (you can take some time and see for yourselves what possible entry points you would pick), instead I will go right to the point which in this case is gray rectangle in the middle of the chart.

This is how it looks zoomed:
EURUSD M5 TIME FRAME
I put the data announcement on previous chart but for you to have better reference point I also put it here. Basically what you see is some support -> resistance line (blue color) which provided good short entry point.
Notice that price tested that line 3 times as a resistance and during third time it was just after FOMC interest rate data announcement. You can also see that primary reaction of the traders was to sell EURUSD. Only in second minute after data announcement resistance was tested and bigger selling started.
QUESTION:
Let's assume I managed to enter with my SELL position. Where should I put my TP level?
ANSWER:
If you had balls and if you actually managed to enter while macroeconomic data was announced, then congrats. For TP level go back to previous chart. There you will see green support line that was tested the next day. Of course if you did not want to wait so long you could have also exit market when previous bottom was reached. In this case the one from 13:00 GMT (that happened at 6:00 GMT the following day).

Let me show you some more recent example. This one will be combining two pairs: EURUSD and USDCHF. They are recently correlated quite tight (this can also be used as one of your trading techniques). Let me start with EURUSD.
EURUSD H4 TIME FRAME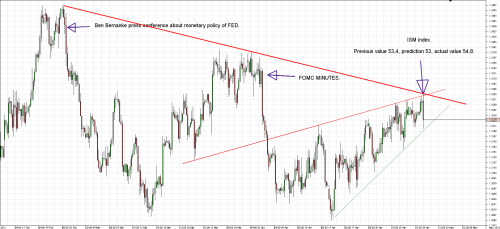 On this chart I put exact moments when very important macroeconomic data was announced (assuming press conference of Mr. Bernanke is such an event). As you can clearly see there has been some strong resistance line (thick red) forming and each time price approached this line, it bounced back.
The news were:
Ben Bernanke speech in front of US House of Representatives about monetary policy conducted by FED.

FOMC Minutes. Federal Open Market Committee report on US housing, manufacturing and production.
Recent


ISM Manufacturing that came better than expected.
At the same time some rising wedge was forming giving traders technical possibility of turning south (after support is broken). When you switch your time frames to M1 you will see that five minutes before ISM announcement EURUSD went sharply higher falsely breaking main resistance line.
THIS IS ANOTHER REASON WHY IT IS DANGEROUS FOR MOST OF TRADERS TO ENTER ON MACROECONOMIC DATA. THERE ARE TOO MANY FALSE SIGNALS GENERATED AT THAT TIME.

The chart below is an update of the price action that occurred after ISM result.
EURUSD H4 TIME FRAME
On the chart below with THICK GREEN LINE and ellipsis I marked potential TP level -> assuming you went SHORT at the resistance line or at the break of wedge support line.
EURUSD H4 TIME FRAME
On the next chart you will see the same period of time with same macro events.
USDCHF H4 TIME FRAME
On the chart above you are seeing main support line (thick green) which three bottoms are made from three different macro news (same ones as earlier with EURUSD). Additionally we have blue channel lines which are suggesting some upward move coming.
Generally when those channel trend lines are inclined contrary to the main trend support line we may be expecting that support will hold and provide stronger rally.
In this case blue channel lines are inclined downwards so it means downward moves are more often but with smaller magnitude and upward moves are rare but are much stronger than downward moves. This may be another way to see which types of trades are more profitable at the moment -> especially when we are investing in short and medium term.
Chart below is the update / continuation of the above chart and shows you exactly how ISM announcement influenced price action.
USDCHF H4 TIMEFRAME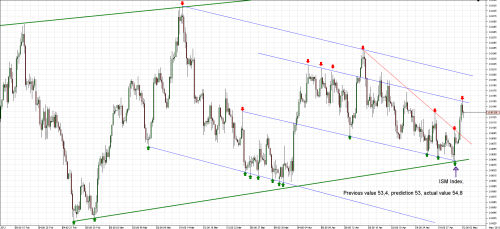 It is also important what market does some hours after the macro data publication. If we have direction follow-up then possibility of greater move is higher. If on the other hand market retraces most (more than 61.8% Fibo) or all of the post data move, then we have clear signal that new direction was NOT SPECIFIED.
You may probably wanna know what is the best technique to use such setup. Well, to tell you the truth, there is no. I myself try to avoid entering market just before, during or right after important macro data. Volatility is too big and price action tends to get lost. Nevertheless as you just saw there are cases in which those dependencies can be used in pretty profitable way.
Best advice I may give you is to WATCH CHARTS A LOT. You may not be able to see some setups at first but after some months/years of practice you will get much better at this.
Last thing I wanted to mention is that if you really want to play fundamentals but you want fast gain, you can also enter with limit order 10 seconds before data is released. Put tight TP and SL. If you can put orders in both ways because you never know what is the market reaction. I guess 5 pip would be ok. Of course you can modify it by adding partial TP and partial SL etc. etc.
At the end just make sure that you feel OK with your trade -> that said make sure that if suddenly you need to go to bathroom or power is out, you will not eat your fingernails from stress.
SMALL LOSS SHOULD NOT HURT AND SMALL GAIN SHOULD ALWAYS PUT SMILE ON YOUR FACE.
That's all for now guys. As usual for any questions/opinions/doubts feel free to contact me.
Have a great month and good luck for all contestants!
Cheers!