CHART SCALE
: Weekly
INDICATORS
: Parabolic Sar, Money Flow Index, Linear regression slope
RESISTANCE LEVELS
: 0.8001
SUPPORT LEVELS
: 0.73229
PAIR ANALYSIS
:
CAD/CHF has been traded within a trendless tendency . The chart indicates a key level price of around the 0.77001 value.
The MFI, the linear regression slope at 0.0001 suggest an indecision zone and the Parabolic Sar support the validity of the convergence zone intuition with a slightly bearish tendency. The bullish crossing of the resistance line at 0.8001 could facilitate a 0.82001 objective level. A bearish crossing at 0.73229 could be interpreted as possible bearish domination market trend.
This level can be considered as a possible convergence price in consideration of the cyclic analysis. Also the chart analysis and the technical analysis could support this value as a possible forecast.
FIGURE 1
shows the trendlines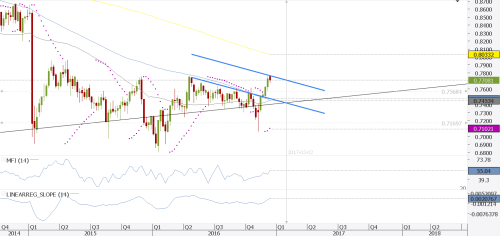 CHART SCALE
: Weekly
INDICATORS
: Parabolic Sar, Money Flow Index, Linear Regression Slope
RESISTANCE LEVELS
: 97.001
SUPPORT LEVELS
: 83.002
PAIR ANALYSIS
:
The CAD/JPY is in a slightly bullish channel tendency as indicated in fig 2. The tendency of the chart analysis indicate a possible bullish domination but the linear regression slope value of around 0.32 could suggest a bullish indication. To support this analysis it could be considered also the MFI and the parabolic sar distribution. It can be evaluated the possibility to open a pending order, a buy lim order at 0.8702 with TP at 0.8902 and SL at 0.86893. The Bullish crossing of the resistance level at 91.001 could validate a demand market domination with possibility for the bullish traders of a great speculation.
FIGURE 1
shows the trendlines