High probability forex trades; trading the news.
The last weeks we have seen some major forex market volatility surroundingeconomic news. Economic data tends to be one of the most important catalysts for short-term movements in the forex market and there is always some piece of economic data out there that traders can use to trade with a high probabilty chance of a profitable outcome. In this article I'll share my method for trading that Breaking News!
First, let's define the scope of this article. This trade strategy is basedon the magic of the "what if" scenario when breaking news hits the market. What if the news is bullish … , or what if the news is bearish … . If both sides of the "what if" scenario predict a profitable opportunity if the news goes that way, the breaking news can be traded.
Basically we wait for the market to react on economic news and try to estimate if the market direction stays the same, or reverses. Cause we are ready to trade both ways (either long or short), no real in depth knowledge of that particular market is needed. It can help you, but it is not required. ... It can also work against you; news and rumors are sometimes influenced by the big players, being blind for
this "knowledge" will sometimes help you more that you know.
Trading the news this way works best for me in a intraday period, withinshort time frames. Because the FX market is a 24/5 market, any session can be traded. It's a active and exciting way of trading and if done in a clever way it can give you some high probable trades.
Economic news
First of all, if you want to trade the economic news successfully in the FX market, it's essential to have access to the news and knowing which and what kind of releases are expected at what time and date. And which ones are most important given current economic conditions.
Companies like Dukascopy make it easy nowadays to gain access to these questions. If you look at this link
http://www.dukascopy.com/swiss/english/marketwatch/calendars/eccalendar/
you will have access toa nice list of upcoming (or past) events. Of course you can also Google for "forex economic calendar" to see other providers for this data.
News types en levels
Generally speaking, these are the most important economic releases for allcountries:
Interest rate decisions
National Bank /FED speeches
Retail sales, Trade balance figures
Inflation figures
Unemployment figures
Industrial production figures
Business sentiment / consumer confidence / manufacturing sector - surveys
Economic event calendar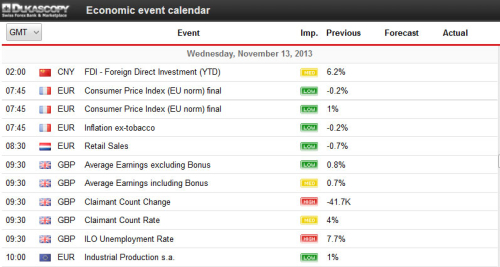 If you take a look at the Dukascopy economic calendar you will someinteresting information. The listing is based on date and time, accompanied by the currency/country and event topic. For me as a trader the next part is more important: the importance of the news (and expected of the impact on the market) in yellow, green or red.
The highest volatility is seen at the Major events and Medium events. In general I don't look atLow important events just because they don't seem to give a trade advantage (not enough volatility). Next to that info we see the actual, previous and forecast figures (expectation of the market). Movement of the market is expected to react based on these last figures.
Fundamentals, picking high probability pairs
So, let's assume there is some major news coming up. If we want to maximizethe probability and profitability of our trade we need to pick the best pair for that country. I'll explain this using a trade example I made in the traders contest
https://www.dukascopy.com/tradercontest/?action=blog&trader=monk
.
It would have been easier to pick the EUR/USD crash after the ECB ratestatement, but let's check out the following news event:

So, important CAD news was coming up, depending of the outcome the marketwas expected to react in a (possible volatile) bullish or bearish way. It was time to pick the most profit promising pair currency pair. I chose the NZD/CAD pair over pairs like NZD/JPY or NZD/USD for the following reasons.
NZD/CAD was trading at a year high level and was just rejected from breaking that high
Other pairs were ranging at the moment
First resistance levels was "unknown" for bulls territory (year high) and around 150 pips on the bears side. For the other pairs there was less pip space to the next resistance
Triangle pattern, close to a break out
The chance of a break through to the top side or a reversal gave me a highprofit probability. The choice was NZD/CAD for the trade I was going to make.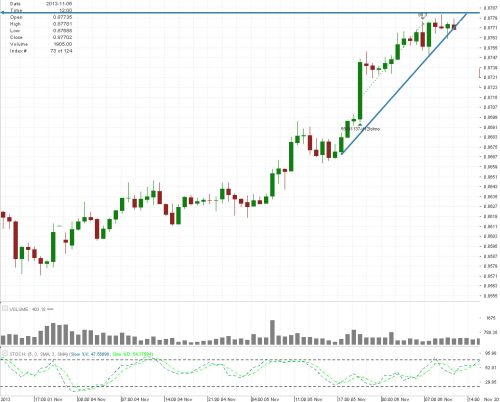 Just to make clear, trading Breaking News can be profitable for a long or short trade, so at this moment I look at both sides when selecting the currency pair. The choice of tools for making the right decision can be different for any trader. I like my choices simple, based on moving averages, Fibo figures and trend/resistance lines. If you have a preference for other indicators, that o.k. with me. Just
pick the pair with a high possible pip run.
Timing
All though this strategy can be used as a starting point for a longer termtrade, I focus on using it in a the short-term intraday trade with a maximum time frame of aprox 2 hours. As mentioned there is no pre-decision on the direction of the trade. I will wait for price action and market signals to get my high probability trade in.
Getting into the trade
This sniper like technique can work when executed the right way. But mistakes can be made very easily and a reaction that is to fast or to late can turn a winning trade into a losing one.
So when is the right moment to start the trade?. Timing is essential, trades are not started before the news is in. The market reacts on the news and chooses a direction, this reaction can be very volatile.
Again lets looks at the NZD/CAD example, here we see the figures again, now with the "actual" news.

The news is bullish for the CAD and the market reacted in a bullish way(be careful, this is not a certainty in many news events!). As we are looking for a high probability trade ( and not a gamble) we look for confirmation on the following indicators:
Candles / price movement
Volume
Preferred indicators
Trend lines
For me, the first 2 are leading, in a news event volume should give asignal that the market is reacting. Volume should be at much higher than the pre-timeframes, if not, the news is already factored into the price and the market could react in the opposite way (Spike alert!). But also low volume (after high volume) can be a signal for confirmation of the strategy.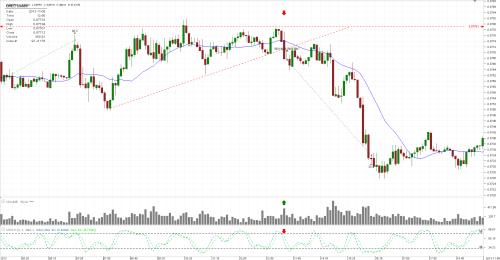 On the chart: trend lines dotted, red arrow on the top the news moment. Green arrow the volume upmove, red the Stochastic reaction. Actual trade the declining dotted line.

Taking profit
When to end the trade is always the big question. In case of a short term trade like this it's a bit easier; I want to close the trade before the first reversal. I am not looking for a long term trade, but for a quick 30 pips or more.
The easiest way to take profit is to use a trailing stop and letting the trade run. If you want to have a more active trading style then use same tools for the moment of closing the trade, as for starting it. As mentioned I look for price movement and candles (in this case, reversal signals) in combination with volume. In the NZD/CAD example the action ended for me after 2:30 hours with a high volume Doji bar in the 10 minute timeframe chart. It gave me a +33 pips profit. After my close the price ranged for the rest of the day and went back
up again for a limited time. Next day more breaking news came out !
Money management
Although it sounds kind of easy to make a profit this way, everybody knows it's not. Discipline is everything in Forex trading and good money management is essential in trading the news.
Use a strict win loss ratio (in my case 3:1), with a stop loss never further than 10pips and stick to it. When breaking news arrives, there is no reason to set the stop loss any further then 10 pips. When you're wrong and the SL is hit, it's better that way. It means the market reacted in a different way as expected, and you bet its gone continue like that for hours, maybe days. Money management is about cutting losses and there is new Breaking News just around the corner waiting for a smart trader like you

Enjoy trading!
- Monk
http://www.dukascopy.com/fxcomm/profile/?nickname=monk
https://www.dukascopy.com/tradercontest/?action=blog&trader=monk