Introduction:
The Australian Dollar is perhaps one the most popular pairs for traders, its nature is fairly simple and provides good opportunities for scalpers and swing traders alike. Crucially in this world with no yield, AUD can pocket you ~3% a year, great for some investors.
Because of this yield, the AUD is very prone to changes in risk sentiment and therefore on an intra-day basis is highly correlated to US and European Stock indices. However, the most alarming thing about this pair is the lack of activity in recent weeks, especially since the start of October where the average Rate of Change has been under 1% per day. This compared with the same time last year where there were times of +2% per day.
Long Term: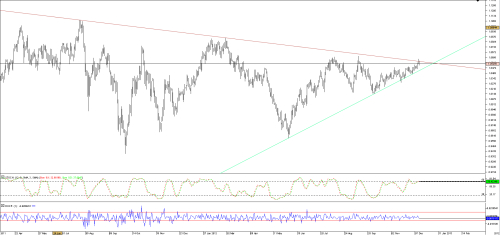 As shown here, AUDUSD is at a crucial checkpoint, as in the next few days to weeks the Aussie will breakout and set the trend for the next 6 months or so. While technically the trendlines are neutral there is a bearish divergence suggesting there is a greater chance of a downside move.
However this is entirely subjective to the moves that will be see is US equities. More so a member of the Reserve Bank of Australia (RBA) has said this;
RBA John Edwards - " The currency is moderately Overvalued"
Furthermore in recent days they have mentioned about intervention in the open markets in order to dampen the rise in the AUD, but were warned to use other menthods than a rate cut.
To bolster this idea, Central banks around the world have been buying AUD as a form of safe Haven to protect against current problems around the world.
This next chart compares the AUDUSD exchange rate with the implied rate via 10Y Swaps, there is normally a Strong correlation but ever since 2008/9 there has been a large divergence between them with Swaps pricing in an incredible 0.56 AUDUSD rate. While it can't be directly used as a target it shows the premium investors are willing to pay in the short term to get yield or protection.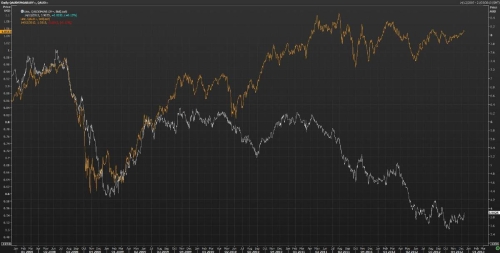 Furthermore this chart showing AUDUSD vs AU-US 10Y yield spread paints a similar picture where the Yield spread prices in a much lower AUDUSD. Obviously this would take 12-18 months to re converge but it may show a longer term likelihood to fall.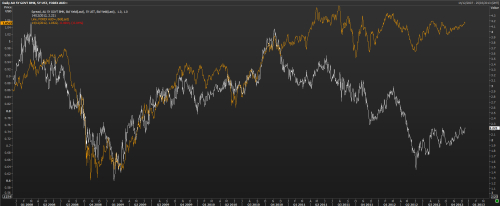 To go with The earlier comment on lack of movement here is a shocking chart showing 1 month Volatility. It is at record lows and it is unsustainable to stay down here. For this reason I expect much larger daily ranges in the 1st Quarter of 2013 if not before then.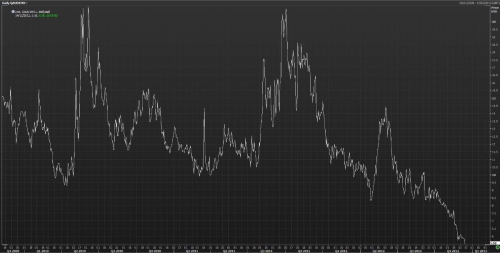 Short term Technical and Fundamental View:
Now of course the big event in the short term is clearly the US fiscal Cliff, as I, nor anyone really knows how this is going to be solved, the outcome is almost impossible to predict, for this reason all I can say is that it will add volatility to the market and most likely break us out of the large triangle formed.
Next is the constant stream of chinese data, for the meantime it seems to be improving and by the time this is uploaded some more Chinese PMI data will be released giving greater insight. But for the moment improving Chinese data is giving some support to AUD via the large Export of commodities.
From a technical perspective there are some key levels that you need to be aware of.the following;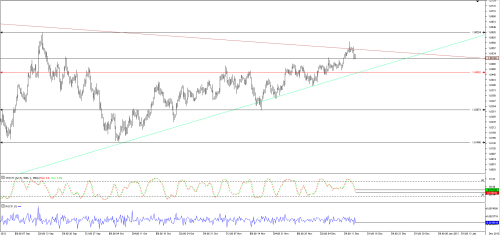 1.0625, Previous swing high - A break over this is very bullish
1.0850 - A break here would be suggestive of new all time highs in AUD
1.0450 - Below rising trendline and key for bearish momentum
1.0285 - Previous minor swing low, if 1.045 goes this would be a mjor target for bears.
1.0150- Probably the last major downside target for those medium term bears.
Conclusion:
This article is not designed to tell you how to trade the AUD over the coming weeks and months but purely to add some more perspective, the price action around these trendlines has suggest we may be sideways in a 150 pip range for next week or so. But ultimately a breakout is coming so be prepared.
Thank you for reading
Adrian.