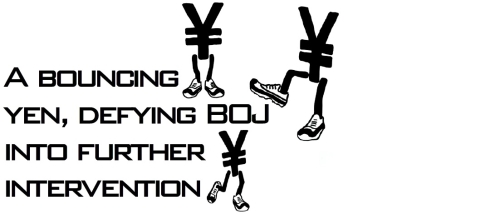 The yen is being traded with an unfavourable volatility. This is due to the negativity of the interest rate. Nikkei 225 index has fallen from 19,033 points at the beginning of the year till 15,960 points at the end of February. The recent sell off in equities is lightening that recent BOJ measures are short-lived, pointing out into further intervention.
Japan's economy shrank 0.4% quarter on quarter in the last three months of 2015, dragged down by a fall in consumers spending and housing investment, failing 0.3% GDP (QoQ) shrinkage forecasted by analysts.
Reporting Mario Blascak and Matus Mader [1],
With the Japanese yen breaking to multi-year highs, the likelihood of further monetary stimulus from the Bank of
Japan (BoJ) rises.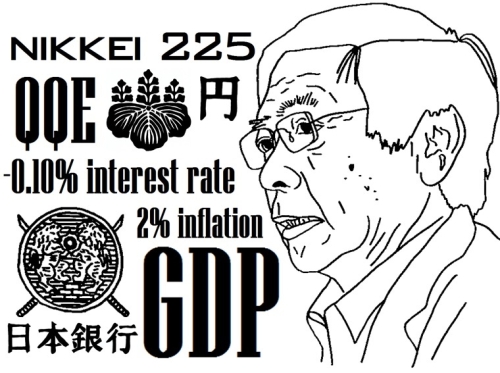 Kuroda's efforts enhanced in 2013 with a massive Q.Q.E. program to combat the 15-year long era of deflation are not providing the results yet predicted.
The recent downtrend in yen vs other major currencies is unwelcome, as it tightens the competiveness of Japan's exports. It also pressures the unwanted Japanese imports purchase power, which unweighs in BOJ's 2% targeted inflation.
Markets are questioning the effectiveness of negative interest rates to lift up inflation, since it has been recently applied in Switzerland, without providing short-term results.
Commerzbank January's FX Research [2] signaled that BOJ's previous
central monetary policy tool, the bond purchasing programme (QQE), was left unchanged (...) it is now choosing a
different tool, negative interest rates, [which] creates the impression that the QQE programme has been exhausted.
(...) We therefore consider a future extension of the QQE programme to be unlikely.
Worries amid Japan's public debt, already exceeding 245% of its GDP have been targeted with IMF warrants, focusing the unsustainability of those debt levels. In order to reduce the deficit, Japan's prime minister Shinzo Abe increased the national consumption tax from 5% to 8% in April 2014. And further consumption taxation is still on the way, delayed until 2017.

After almost three years of Abenomics aggressive stimulus, the economy is still not answering as unveiled by the latest GDP figures. As BOJ seeks targeted inflation, prime minister Abe shranks household expenditures moving up consumption tax in order to control deficit, giving a sense of bewilderment between fiscal and monetary policy guidance lines.
Reporting Junko Nishioka [3] chief economist at Sumitomo Mitsui Banking,
Private consumption is especially weak. The economy is at a standstill.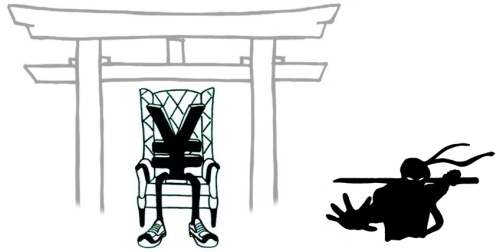 The yen is seen as a safe haven asset in the actual global currency arena. Some analysts argue that the yen remains significantly undervalued, and if global financial market conditions continues to deteriorate, there is still some plenty of scope into further strengthening against other major currencies.
A market valuation which blows against Japanese institutions major interests is also seen as an exciting round. In one side markets (particularly major hedge funds) supporting yen's strengthening path, and in the counterpart Japan's institutions, relying on February 15
th
prime minister Abe's [3] words,
As we have agreed at G7 and G20, sudden currency moves are undesirable. I want the finance minister to closely
monitor the situation and respond with appropriate measures as needed.
Furthermore, Etsuro Honda [4], prime minister Abe advisor, added on February 16
th
,
It's vital for the BOJ to preemptively work to change people's minds after considering various economic
indicators – not just sit back and follow events.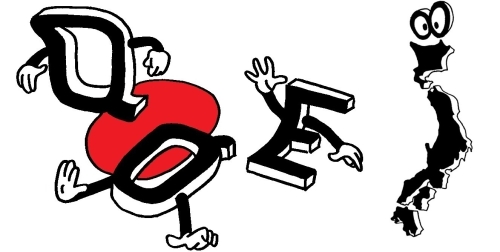 From this moment, it is hard to figure out how Japan will reach Abe's pledged 2020 GDP target, ¥600 trillion, around 20% increase from the current GDP level. BOJ's monetary policies are being led till exhaustion; combined with Abenomics stimulus creates a feeling that Japan's major institutions are running out of ammunition to boost economic figures.
July's 2015 IMF press release [5] reported that,
Abenomics needs to be reloaded so that policy shortcomings do not become a drag on growth and inflation. (...)
A credible medium-term fiscal consolidation plan is needed to remove uncertainty about the direction of policies that
may be holding back domestic demand. (...)
[F]urther monetary easing without bolder structural reforms and a credible medium-term fiscal consolidation plan could
lead to sluggish domestic demand and overreliance on yen depreciation to pursue domestic policy objectives, with
possible adverse spillovers abroad.
In spite of a high volatility during these two first months of the year, yen currency pairs detached a lot of opportunities with ups and downs, triggered once by the negative interest rate, followed by safe haven and risk aversion hunts, respectively.
Ichimoku indicator
provides a powerful tool for traders to identify market trends, particularly with yen currency pairs. For all the ones that are not familiar with Ichimoku, a briefly description points out to,
"one glance cloud chart"
. It consists in 5 overlaid lines on a daily candlestick chart, as shown in the following USDJPY 4 hours chart:
the Tenkan Sen (orange line);
the Ki-jun Sen (blue line);
the Chinkou Span (pink line);
the Senkou A (red line);
the Senkou B (green line).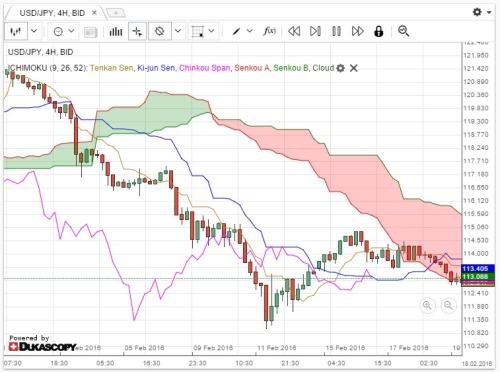 Ichimoku charts offers traders a lot of information, and most of all, a lot of trading signals. A quick and simple approach relies on Senkou A and Senkou B crossover:
when Senkou A crosses Senkou B in an upward direction it generates a bullish signal;
when Senkou A crosses Senkou B in a downward direction it generates a bearish signal.
The following code sample presents an Ichimoku simple strategy that relies on previously described trading signals.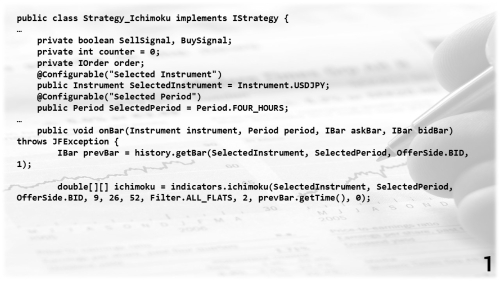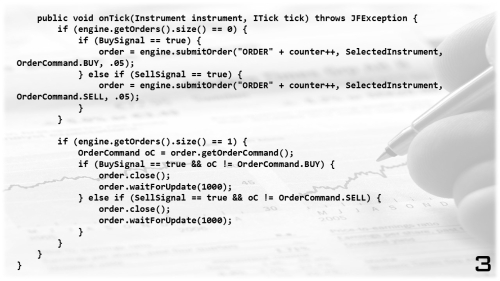 Strategy/coding sample features:
Single order with 0.05 million amount;
Market entry signals are fixed accordingly with Senkou A & Senkou B positioning;
If filled order's side doesn't match current trading signal, it closes filled order and opens a new matching one.
The strategy has been tested in the past 3 months (from December 2015 till February 2016) over 5 currency pairs – 4 hours as selected period – for a 10.000,00 USD starting equity value, results can be found in the following table.
Previous shown coding sample relies on an Ichimoku single and simple signal. Ichimoku charts offers a much wider range of trading signals; nonetheless, the strategy employed – with 4 hours as selected period – offered quite generous results in the 3 months range historical test.

[1]
http://wbponline.com/Articles/View/59134/strong-yen-increases-likelihood-of-further-boj-easing
[2]
https://research.commerzbank.com/delegate/publication?params=nRbGUEbICImBGNyUO0EhIbF9l3Hf2b6yTTLDsi%2BvIrG9dLM6sGJ1smz5YSY6etBo
[3]
http://www.reuters.com/article/us-japan-economy-gdp-idUSKCN0VN13F
[4]
http://www.businesstimes.com.sg/government-economy/boj-may-add-to-stimulus-at-march-meeting-abe-adviser-says
[5]
https://www.imf.org/external/np/sec/pr/2015/pr15352.htm