Refer your friend and enjoy 50 USD gift from Dukascopy Europe IBS
Live clients are welcome to share their Dukascopy trading experience with their friends and invite them to benefit from the outstanding trading conditions provided by Dukascopy Europe. Should a friend you refer become a live trader with Dukascopy Europe, you will enjoy a 100% discount on your future trading commission till the full amount of the discount (50 USD) is reached. The commission discount will be credited on a daily basis starting from the moment your referred friend has performed the first trade.
How to refer your friend
From your live trading platform go to "My Account" under Portfolio tab and Click on the banner marked "Refer your friend".

As soon as you click on it, a small registration window will appear. Please indicate there the name of your friend and his/her contact details. Please make sure your friend is willing to be contacted prior you disclosing their contact details.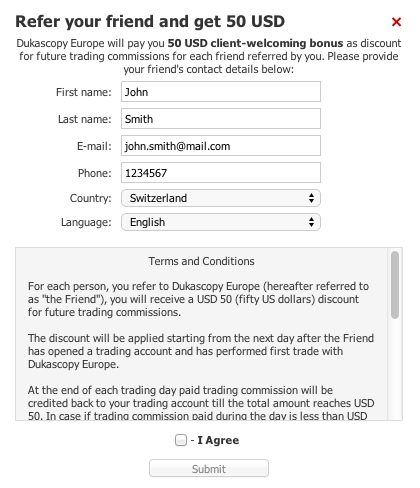 Your Account Manager from Dukascopy Europe will contact your friend and will assist in further account opening process.
As soon as your friend opens Forex or binary account and makes the first live trade, you will start to receive 100% commission discount until the full amount of 50 USD is paid. Trading commissions will be compensated after each settlement.
There are no limitations in the number of clients you can refer, however, please be aware, we will only consider new clients for whom we don't have any records for in our database.
Additional details
In case you have a Business Introducer, your commission discount will be based on Dukascopy Europe net commission.
If you have applied for Dukascopy Discount program, discount amount will be deducted from future commission.
If you have a Service Provider, your commission discount will be based on Dukascopy volume commission.